Zimmermann limits Crew as Nats take opener
Zimmermann limits Crew as Nats take opener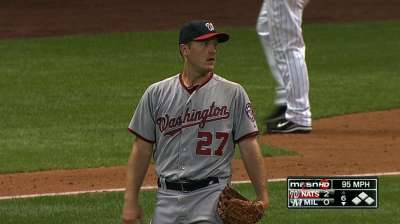 MILWAUKEE -- Jordan Zimmermann pitched in his home state on Friday night, and the right-hander had one of his best games of the season, pitching six shutout innings as the Nationals defeated the Brewers, 4-1, at Miller Park.
Zimmermann was born Auburndale, Wis., nearly three hours away from Milwaukee, and he threw as if he was right at home. He allowed four hits, while striking out five batters. Zimmermann had at least 20 family and friends who witnessed the game.
It was Zimmermann's first quality start during the second half of the season. In his previous two starts, Zimmermann allowed a combined 12 runs in 8 2/3 innings. His slider was non-existent in those games, but against the Brewers, Zimmermann threw all his pitches for strikes.
"You always want to do well in your home state in front of all your family and friends," Zimmermann said. "I was happy to put up some zeros and get the month of July over with and get a new month.
"I was throwing strikes, attacking guys, and keeping the ball in bottom of the zone, and elevating when I needed to. I walked a few too many guys tonight. It seemed like every inning I was in a jam. I was able to wiggle out of them."
Washington's offense was sputtering until the fifth inning, when it played small ball. With right-hander Alfredo Figaro on the mound, Ian Desmond led off with a double to right-center field. Desmond then stole third base and proceeded to score the first run of the game when third baseman Jeff Bianchi was unable to catch Jonathan Lucroy's throw as Desmond was sliding into third. Bianchi was charged with an error on the play.
In the following inning and with right-hander Burke Badenhop on the mound, Bryce Harper hit a 3-1 pitch and hit a monster home run that landed in the second deck in right field.
Right-hander John Axford was on the mound in the seventh inning when Anthony Rendon singled to left field, scoring Wilson Ramos to make it a three-run game. The run was charged to Badenhop.
Tyler Clippard pitched for the Nationals in the eighth inning and allowed a solo home run to Lucroy. But Washington added an insurance run in the ninth inning. With runners on first and third and one out, Harper hit a sharp ground ball that went under the glove of second baseman Rickie Weeks, which allowed Denard Span to score the Nats' final run of the game.
Rafael Soriano entered the game in the ninth inning and saved his 27th game of the season.
"We made some mistakes again today," Brewers manager Ron Roenicke said. "The Desmond steal hurt us. You get behind on these guys and you go into the ninth inning and you have to score three runs to tie it, makes it tough. Really, we gave them a couple runs."
The Nationals improved their record to 53-56 and the victory comes two days after Harper said it's time for the Nationals to step up if they want to win their second straight division title. Harper wants to see the Nationals play like a family, like they did last year.
"That's the biggest thing right now. You have to have heart. You have to play as a family. Everybody has to want it, starting with the manager on down to everybody," Harper said after Wednesday's 11-1 loss to the Tigers. "Everybody wants to win this and keep going and whatnot. We need to keep doing that. We need to keep going, play better, get better, better [at-bats] in certain situations and pitch better also. It's just something we need to do."
Desmond was impressed by what Harper had to say.
"He goes out there and grinds with us all along. He can say whatever he wants," Desmond said. "More power to him. I like it. We need more people to speak up. He's right. We have to play the game hard, have heart. It is as simple as that. He didn't say anything that was untrue. It's good to see him come into his own."
Harper even had T-shirts made that said, "To the last minute, to the last second, to the last man, we fight." The phrase comes from the movie, "Red Tails." Harper read an article that revealed that LeBron James used the same phrase for the Heat, who won the last two NBA titles.
"That's a cool motto. I think it fits pretty well now," Harper said.
Harper backed up those words by going to 2-for-5 with the home run, his 16th of the season.
"He rises to the occasion, if you didn't notice," Desmond said. "He is a good ballplayer. He plays with a lot of heart, he wears his emotions on his sleeves -- sometimes to a fault. More often than not, it benefits him. You can't knock a guy for running out there as hard as he can every day."
Bill Ladson is a reporter for MLB.com and writes an MLBlog, All Nats All the time. He also could be found on Twitter @WashingNats. This story was not subject to the approval of Major League Baseball or its clubs.