Yount honored by Brewers, reflects on PEDs
Yount honored by Brewers, reflects on PEDs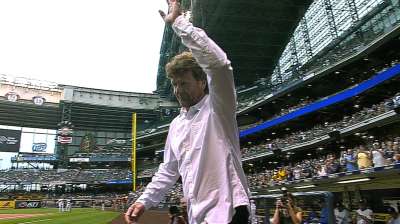 MILWAUKEE -- Robin Yount was on hand at Miller Park on Friday as the Brewers commemorated the 20th anniversary of his retirement prior to their series opener against the Nationals.
Yount -- who played for Milwaukee for the entirety of his 20-year career -- spoke to media prior to the ceremony and weighed in on his playing days, his brief coaching career, and the state of PED's in Major League Baseball in the wake of Ryan Braun's suspension.
Three years ago, Yount famously stated that he did not know what he would have done if steroids had been readily available during his playing days.
"There was an argument where you had to do it prior to drug testing to keep up," Yount said Friday. "I'd like to believe those days are gone."
Yount had this to say about Braun's recent 65-game suspension: "In Ryan's case, I don't know all the facts. Obviously this is a bump in the road for baseball, but I hope that it maybe will put an end to all of this once and for all. I hope that the guys testing the system realize maybe they can't beat it, and let everybody go out there on an even playing field."
Yount shied away from commenting directly about Braun's situation, but he did say how it affected the Brewers organization as a whole.
"Let's face it, an organization without your star player gets hurt in a lot of ways," Yount said. "If these guys would realize there's more to this than themselves … they're playing for their teams, they're hurting their teammates, they're hurting the fans they play for -- let's face it, they're paying your salary.
"It's just not necessary anymore. That's the point I'm trying to make. With drug testing in place -- again I'm no expert on it -- but I would certainly like to believe it's a good enough program that you can't get away with it, so nobody has to worry about it anymore."
Yount was joined by former teammates and fellow Hall of Famers Rollie Fingers and Hank Aaron on the field for his pregame ceremony, and he stressed that baseball will be better off with the sport's new drug policy.
"It's very important to baseball that we get rid of this," Yount said. "It's not what we want to focus on as an industry. We want to focus on the game itself. This will pass, there's no player bigger than the game. It's not our brightest moment, but hopefully, like I said just a second ago, this will make the guys aware that they're not going to beat the system."
Kevin Massoth is an associate reporter for MLB.com. This story was not subject to the approval of Major League Baseball or its clubs.