Ross torments former club in return to Fenway
Ross torments former club in return to Fenway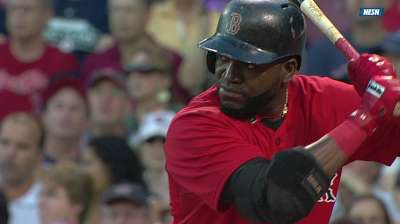 BOSTON -- If Red Sox fans forgot who Cody Ross was, he made sure to remind them Friday night.
In his first game back at Fenway Park since leaving the Sox last season, Ross, who said he was "jaded" by his departure from Boston before the game, lit up his former team as the D-backs topped the Red Sox, 7-6.
Ross homered, singled and doubled twice while knocking in three runs and scoring two more in the game.
"Obviously I've had this game circled on my calendar for a while," Ross said. "I knew we were coming back here the later part of the year and I was excited to get back and see a lot of familiar faces and a lot of friends, but at the same time come back and beat them."
His home run off Pedro Beato in the top of the seventh broke a 6-6 tie and gave Arizona the lead for good.
Three of Ross' four hits came off Jon Lester, who struggled from the opening frame.
"Obviously he came back with a little bit of a chip on his shoulder," Lester said of his former teammate.
For a moment, it looked like the walk-off magic that found Boston the previous two nights would return to spoil Ross' return. Trailing by one, Stephen Drew hit a leadoff single to open the bottom of the ninth. After a botched bunt attempt from Brock Holt, Jacoby Ellsbury singled to put the tying run in scoring position with Shane Victorino and Dustin Pedroia set to bat.
"We started to put it together," said manager John Farrell. .
However, closer Brad Ziegler routinely retired Boston's Nos. 2 and 3 hitters, slamming the door without any more drama.
"Yeah, things started to build a little momentum," Farrell said. "Similar feeling that we've had the last couple nights, but you know, unfortunately it didn't happen here tonight."
For Lester, the start was a step back after a solid July, in which he recorded a 3.13 ERA. It wasn't that Lester, who had three straight quality starts entering Friday's game, was wild -- he struck out six and walked none. The lefty just missed over the plate, and when he did, the D-backs barreled it up, totaling 11 hits off him, including six that went for extra bases.
"Obviously balls leaking back to the middle of the plate and it's just unacceptable," he said. "Especially after last night, I got to pick up [Ryan Dempster], pick up our bullpen. You know, obviously, I didn't do that and I've got to do a better job going deeper into games. Finding a way -- that's what it comes down to."
After Paul Goldschmidt smashed Lester's 2-2 changeup over the Green Monster for a two-run homer in the first inning, Lester did a good job scattering the hits for a few innings. He struck out five batters between the third and fourth, but it all came unraveled in the fifth when he gave up three of his six runs. The fans at Fenway booed when he gave up four hits, including three doubles, in a five-batter span and cheered when Farrell came to the mound to remove him from the game.
"It just wasn't a good night," he said.
The loss is Boston's first in four games, and the team now has a 7-3 record in Interleague Play.
The Red Sox's offense, as it has been for most of the year, was resilient, digging itself out of two different deficits.
In the first, David Ortiz ripped the first pitch he saw from Arizona starter Randall Delgado into the center-field seats for a two-run homer to tie the score at 2.
Trailing by two in the sixth, Drew lined a two-run shot into the right-field bullpen to knot the game up at 6.
Ross had the last laugh, though. His dinger broke the stalemate the following inning, sealing the game.
"I don't feel like I proved a point," Ross said. "I was just going out there trying to help my team win."
Michael Periatt is an associate reporter for MLB.com. This story was not subject to the approval of Major League Baseball or its clubs.