Braves activate determined B.J. Upton from DL
Braves activate determined B.J. Upton from DL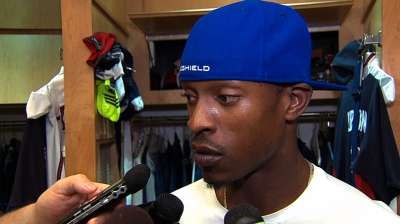 PHILADELPHIA -- Before sending B.J. Upton on a Minor League rehab assignment earlier this week, the Braves gained some indication that he is motivated to move beyond the tremendous struggles he has endured this year and determined to do whatever it takes to turn things around during the remainder of this season.
"He worked really hard when he got to where he could physically start working again," hitting coach Greg Walker said. "After he went on the [disabled list], he got real focused, and you could just tell he wanted to contribute and he wanted to get it right. I felt when he went down there that he was fighting to do well. He wants to come back and help. There's no doubt about that."
Having recovered from a strained right adductor, an injury he sustained on July 12, Upton concluded his rehab assignment on Friday night, going 1-for-5 with a double and three strikeouts for Triple-A Gwinnett against Charlotte. Upton was activated before Saturday's game in Philadelphia and was placed in the lineup at the No. 7 spot. To make room, Gerald Laird was placed on the disabled list retroactive to July 26.
Upton has spent the past few days reuniting with veteran hitting guru Lee Elia, who has worked with a number of Braves prospects over the past three seasons. The two residents of the Tampa, Fla., area have worked together during previous offseasons.
Walker is pleased with what he saw when he watched video of Upton going 3-for-4 with two doubles in Thursday night's game against Charlotte.
"I saw a couple of his hits, and they were mechanically and technically perfect," he said. "He pounded the ball to right-center. That's a great sign for me. Let's just see if he can keep repeating it. But it looked a lot like B.J. Upton to me."
While hitting .177 with eight home runs and a .565 OPS in 84 games this year, Upton has looked nothing like the player the Braves envisioned when they signed him to a franchise-record five-year, $75.25 million contract in November.
But since going on the DL earlier this month, Upton has seemingly seen the opportunity to get a fresh start and prove to be a productive asset to a club that has sat atop the National League East throughout the season despite his struggles.
"He took probably his best [batting practices] before he went down," Walker said. "You could just see the eye of the tiger or whatever you want to call it. He knows we've got something good going on, and he wants to contribute."
Upton's return will end Evan Gattis' recent stint as one of Atlanta's regular outfielders. That will upgrade the club's outfield defense and bench.
Gattis has hit just .246 with one home run and a .570 OPS in the 15 games he has played since returning from the DL on July 14. In the 26 games he has played dating back to May 31, he has hit .195 with three homers and a .563 OPS. But during the late innings, opposing managers are quite cognizant of the fact that he has gone 6-for-8 with four home runs and two walks in 10 pinch-hit plate appearances.
Mark Bowman is a reporter for MLB.com. This story was not subject to the approval of Major League Baseball or its clubs.