Rollins tossed for just second time in career
Rollins tossed for just second time in career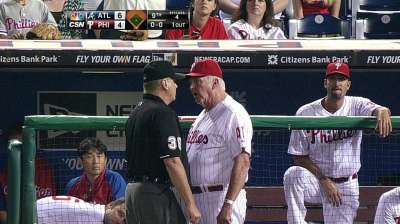 PHILADELPHIA -- Jimmy Rollins is generally mild-mannered. Entering Friday, he had been ejected from just one contest in his first 13 years in the Majors.
But after home-plate umpire Vic Carapazza missed a call in the ninth inning of the Phils' 6-4 loss, Rollins hit the showers early for only the second time.
On the play in question, Delmon Young fouled off a pitch from Atlanta's Craig Kimbrel, and the ball ended up in the mitt of catcher Brian McCann. Carapazza called Young out, saying that McCann picked the ball cleanly, but replays showed that the ball hit the dirt first.
Rollins and his teammates had a clear view of the play from the first-base dugout.
"It was clear," Rollins said. "Obviously, from the side we have a better angle than he does, but even Brian, he was surprised he had the ball, like 'Look what I got.'"
Carapazza appealed to first-base umpire Gary Cederstrom, who agreed with the initial ruling. This prompted manager Charlie Manuel to come out to argue, and Cederstrom ejected Manuel after a few words.
What Rollins said angered him the most was that Carapazza would not check the ball for a dirt marking. And when Cody Asche, the next batter, went to the plate and asked for a new ball, McCann rolled the ball to the Braves' dugout without Carapazza looking at it first.
"We pretty much told him 'Check the ball.' And he kept ignoring us, purposefully, and finally we told Cody when he got up there to ask for a new ball," Rollins said. "Smartly, McCann threw the ball in his dugout, and that's when I got on him. The umpire doesn't let him throw the ball to the dugout, he gets it and looks at it himself. But he let him throw it to his dugout and he didn't have a problem with it, and I did."
Rollins shouted at Carapazza from the top step of the dugout and was thrown out almost instantly after Manuel left the field.
The ejection was the first for the three-time All-Star since Aug. 23, 2004, when he got the boot for arguing a third-strike call.
"It might have been time he got thrown out, really," Manuel said after the game. "That's a long time. What is he, 13 years, 14, in the big leagues? It's time for him to go a few times."
Stephen Pianovich is an associate reporter for MLB.com. This story was not subject to the approval of Major League Baseball or its clubs.