Cubs' young players developing nicely
Cubs' young players developing nicely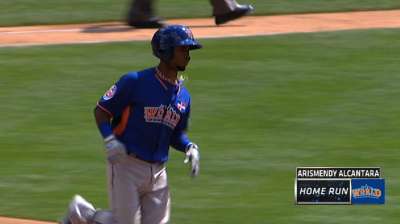 CHICAGO -- A lot has made Theo Epstein happy lately, including the Cubs' work prior to the non-waiver Trade Deadline and the organization's success in the international market.
But one of the most important things has been what's happening with those players already in the Cubs' system.
"I think it's been a really good year in player development," the Cubs' president of baseball operations said Friday. "Everyone's on the same page. There's a lot of great teaching going on, there's a lot of hard work going on. You see a lot of players getting better and sort of grabbing some of the concepts we're trying to teach."
Double-A Tennessee shortstop Arismendy Alcantara is a perfect example of that, Epstein said. The 21-year-old entered Friday hitting .270/.346/.450 with 13 home runs and 24 stolen bases in 106 games. Alcantara was ranked midseason as the Cubs' eighth-best prospect by MLB.com after not cracking the preseason top 20.
The biggest progress in Alcantara's development, Epstein said, is the youngster becoming more patient at the plate.
"You look at a guy like Alcantara, for example, who had been kind of free swinger earlier in his career and took it on himself to seize the plate discipline principles that were being taught," Epstein said. "Now he's taken it and run with it and become a really well-rounded player.
"You see a lot of that going on down there. [There are] a lot of things going right in the Minor Leagues that all of us should be proud of. [That's the result of] a lot of hard work from the coaches."
Alcantara is the latest position player to draw raves from those familiar with the Cubs' system, both inside and outside the organization. After all, eight of MLB.com's top 10 Cubs prospects are position players.
Adding pitching to that everyday core continues to be a priority, as shown in the past two Drafts and Trade Deadline moves under Epstein. The Cubs acquired right-hander Arodys Vizcaino (out following Tommy John surgery) last July and this season added right-handed prospects Ivan Pineyro, C.J. Edwards and Corey Black in various deals, as well as those already with big league experience like Jake Arrieta, Pedro Strop, Justin Grimm and Matt Guerrier.
Epstein said the Cubs won't know for a while if any of the younger pitchers will make an impact. But by adding a high number of arms, they're improving the odds.
"With pitching, you need five good arms for every one that you want to count on coming up here and making a difference, so that's why we try to acquire arms in every deal that we could," Epstein said. "We have a player or two left in the Texas deal, we'll see how that works out. But all in all, I'm happy with the volume of quality arms that we brought into the organization."
Cash Kruth is a reporter for MLB.com. Follow him on Twitter at @cashkruth. This story was not subject to the approval of Major League Baseball or its clubs.