LA ties franchise record with 12th straight road win
LA ties franchise record with 12th straight road win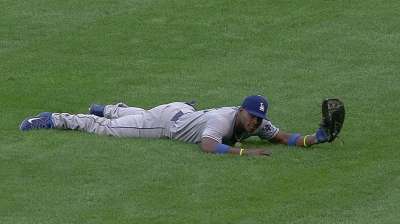 CHICAGO -- The last 12-game win streak on the road for the Dodgers' franchise was 89 years ago, the 1924 Brooklyn Robins, with Hall of Famers like Zack Wheat, Dazzy Vance and Burleigh Grimes, managed by Hall of Famer Wilbert Robinson.
While Don Mattingly tends not to get caught up in comparisons and milestones, for a manager rumored to be on the chopping block two months ago, he didn't hide the satisfaction he got watching Friday's 6-2 win over the Cubs -- even though he watched most of it from the clubhouse after being ejected with Mark Ellis for arguing a strike-three call in the fourth inning.
"The record shows a lot," Mattingly said. "Good teams, to me, have got to be able to win on the road. It is actually something the guys should be proud of. It shows you can play. Every day you're ready to go. It's what we tell them, to put yesterday's game behind you. Every game is a big game. Play like it's a must-win situation, and they've been doing it."
The Cubs made it easy, misjudging balls in the air and on the ground on defense, throwing to the wrong base, running into outs and knocking out 14 hits with only two runs to show for it while stranding 10.
Rookie starter Hyun-Jin Ryu won his 10th game as the Dodgers improved to 12-2 since the All-Star break and 29-7 in the last 36 games. Ryu had to battle for 5 1/3 innings, allowing 11 hits, four of them doubles. The Cubs had baserunners in each of Ryu's innings. But he's 10-3 with a 3.15 ERA, and is the first Dodgers rookie with double-figure wins since Kaz Ishii set the club rookie record of 14 in 2002.
"He dials it up when he needs to," catcher A.J. Ellis said of Ryu. "Sometimes the entire game, like Cincinnati last time. Other times, he saves it for certain situations. He's a big-game pitcher and he knows how to win."
Mattingly, who before the game nominated Ryu as the most overlooked Rookie of the Year candidate (in part because the spotlight has been on teammate Yasiel Puig), said Ryu lacked his best stuff, "but he hangs in," again comparing him to an artist with his mix of pitches.
Ryu's exit forced acting manager Trey Hillman to get 3 2/3 scoreless innings out four relievers -- J.P. Howell, Brandon League, Ronald Belisario and Carlos Marmol, the former Cubs closer who was showered with boos as he returned to Wrigley Field.
Marmol allowed a pair of runners in the ninth and Hillman started to warm up closer Kenley Jansen, but Julio Borbon torpedoed the inning for the Cubs when he was thrown out trying to advance to third on a pitch in the dirt, trailing by four runs with no outs.
"When you're down by four runs and there's no outs you can stand on second base, because we've got to get a bunch of hits," said Cubs manager Dale Sveum. "So it's not the brightest thing I've ever seen."
The Dodgers chased Cubs starter Travis Wood in a four-walk fourth inning and Nick Punto, helping shortstop Hanley Ramirez take a day off, drove in two runs. That came one game after Jerry Hairston, like Punto having lost playing time with the healthy return of regulars, drove in two runs with a pinch-hit single.
"It's been a little bit of an adjustment," Punto said. "Jerry and I were talking about it, how we have to stay sharp. And when they call our number, we need to be ready."
Punto, who has a World Series ring from the 2011 Cardinals, said the road winning streak is significant.
"I think it's pretty special, pretty cool," he said. "This is a special team, and I expect real good things from the team in the postseason and beyond."
Punto said this Dodgers team is capitalizing on opponents' mistakes, something the injury-riddled team wasn't doing in the first half.
"Maybe a lack of concentration had a lot to do with it," he said. "When you're going bad, you just get lackadaisical. Confidence now is huge. Early on, we'd get down a few runs and we didn't think we had a chance. Now we can be down five runs in the seventh and we know we have the talent to come back, and we don't even have Matt Kemp. That's crazy."
Ken Gurnick is a reporter for MLB.com. This story was not subject to the approval of Major League Baseball or its clubs.