Cubs view busy month of July as a success
Cubs view busy month of July as a success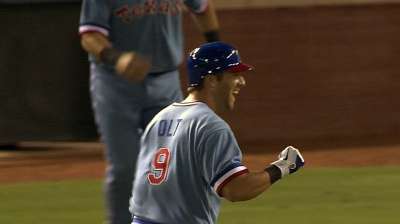 CHICAGO -- As far as the front office is concerned, the Cubs can raise the "W" flag on the month of July.
A successful haul prior to the non-wavier Trade Deadline and the acquisitions of potential high-impact prospects through the international market -- coupled with a winning month for the big league club (14-13) -- left Cubs president of baseball operations Theo Epstein pleased with the work of his staff last month.
"I thought it was really a productive month of July," Epstein said on Friday. "We acquired a lot of young talent. A few buy-low guys, a few upside prospects, a few complementary type players. Obviously, it was quiet right at the Deadline, but looking at the month as a whole, we were really pleased. We'll see how it plays out, but all in all, I think things went well."
The Cubs made five deals in July, swapping pitchers Scott Feldman, Carlos Marmol, Matt Garza and outfielders Alfonso Soriano and Scott Hairston for a handful of young prospects -- some close to the Majors (third baseman Mike Olt in the Garza package) and some not (right-hander Corey Black, acquired for Soriano).
They also spent heavily in the international market by signing four of MLB.com's top 30 international prospects, including No. 1 prospect outfielder Eloy Jimenez.
And the big league club had its first winning month since last July.
Although the organization's July moves by no means represent the light at the end of the tunnel, the various positives -- including receiving the go-ahead from the Chicago City Council for the Wrigley Field renovation project -- made July a much-needed win for the Cubs, Epstein said.
"It was a good month, and right now is a good time for people who are sort of wanting for things to go well in the organization, looking for progress. They can see that progress, seize on it for hope and to be optimistic," Epstein said. "And that applies to all of us. It was easier to come to work the last few days than it was maybe a couple months ago."
But that doesn't mean the endgame for Epstein and Co.'s plan is near. The big league club could finish August below .500 and a handful of top prospects might falter this year or next. When that undoubtedly happens, Epstein said it's important to remember the big picture.
"It's important to remind everyone that the trend line as a whole is going in the right direction," Epstein said. "There's going to be peaks and valleys, but right now we're excited about certain things that happened this month, even as we brace for what's an uncertain future. We need to really keep working hard and taking advantage of every opportunity we have to get better going forward."
Cash Kruth is a reporter for MLB.com. Follow him on Twitter at @cashkruth. This story was not subject to the approval of Major League Baseball or its clubs.