Capuano, Federowicz have good connection
Capuano, Federowicz have good connection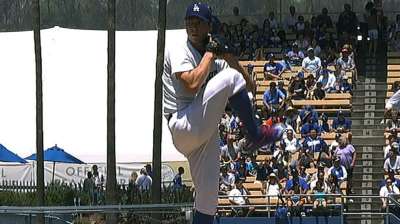 CHICAGO -- Chris Capuano is scheduled to be the starting pitcher for the Dodgers on Saturday, which means Tim Federowicz will be the starting catcher.
Manager Don Mattingly said it was never his plan to have any pitcher linked to one catcher.
"But I can't be so hard headed to ignore the fact that they just click," Mattingly said. "I'm not afraid to have A.J. [Ellis] catch Cap, but there's a double reason. This helps keep A.J. strong and gives Fed regular experience. I can't tell you why Cap and Fed have worked so well together. They just do."
Capuano's ERA in nine outings with Federowicz catching is 3.06. In six with Ellis catching, it's 8.38.
"It helps me know I've got him and I can prepare for the opposing lineup," said Federowicz. "Today, I'll make sure I'm watching what [Cubs hitters] are trying to do with [Hyun-Jin] Ryu."
Capuano said he never requested the linkage, but the veteran lefty doesn't mind taking advantage of it.
"Really, it goes back to Spring Training of 2012," he said. "Fed caught my first couple of [bullpen sessions] and Spring Training appearances, and immediately I was comfortable with him. He caught my rehab start with Albuquerque this year.
"It's just a comfort level. It's hard to identify certain things. It's not like I was uncomfortable with A.J. I know the numbers are better with Fed, and that's why they started to pair us up. I didn't ask. I've never been superstitious about who I throw to. I never concern myself with that. My job is to make pitches."
Capuano said their collegiate rivalry has added to the friendship. Capuano was a Phi Beta Kappa at Duke, Federowicz a star at the University of North Carolina-Chapel Hill.
"We have good banter with the rivalry and a good relationship just developed," Capuano said. "I'm sure that's part of it."
Ken Gurnick is a reporter for MLB.com. This story was not subject to the approval of Major League Baseball or its clubs.