Lake, Rizzo each homer twice, but can't derail Dodgers
Lake, Rizzo each homer twice, but can't derail Dodgers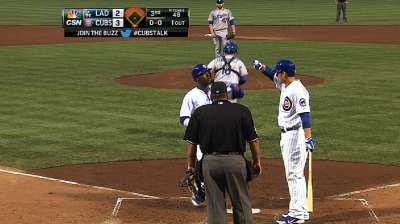 CHICAGO -- Junior Lake and Anthony Rizzo's power wasn't enough to derail the Dodgers on Thursday night at Wrigley Field.
Lake and Rizzo each hit two solo home runs, but the Cubs' bullpen blew yet another lead, as a three-run sixth inning propelled the Dodgers to a 6-4 victory.
It was the Dodgers' 11th win in their last 13 games, while the Cubs fell for the fourth time in their last five.
Although the Cubs continued their season-long home run derby at Wrigley Field -- with their 72 homers at the Friendly Confines a National League high -- they managed only one other hit.
"They scored more runs than we did, and we didn't give ourselves the opportunity to score runs tonight," Rizzo said. "This is unusual for us; usually we give ourselves that opportunity every game, but tonight it was just solo home runs. They kept us in it, but other than that, they really shut us down."
Los Angeles' sixth-inning rally came after five strong innings from Cubs left-hander Chris Rusin, who tired in the sixth and was removed with two on and no out.
A sacrifice bunt put runners at second and third for Dodgers pinch-hitter Jerry Hairston, who hit a two-run, go-ahead single off reliever Michael Bowden. Adrian Gonzalez added an RBI single.
"I put Bo in a tough situation," Rusin said. "Other than that, I nibbled too much. I thought in the sixth inning, I had to attack a little more and just can't make mistakes to those teams."
Rusin (1-1) allowed just two runs -- on a Hanley Ramirez double -- before the sixth. The lefty was charged with a season-high four runs on seven hits and three walks in his fourth start since replacing Matt Garza in the rotation.
That sixth inning was enough for the Dodgers to overcome Ricky Nolasco's yard sale, as the right-hander surrendered three home runs in five frames.
Lake and Rizzo went back-to-back in the first inning, with Lake's first career homer at Wrigley Field going onto Waveland Avenue.
The rookie's second came in the third inning, giving the Cubs a 3-2 advantage. Lake is only the third Cubs rookie since 1949 to record a two-homer game in his first 15 games as a Cub, joining Brant Brown (June 18, 1996) and Angel Pagan (July 2, 2006).
Lake's second homer came off a slider, which he said he's been seeing more of lately.
"I feel good that now I'm hitting the pitch that in the past I had a little trouble with," Lake said with catcher Dioner Navarro translating.
Nolasco (7-9) allowed the three homers and a single while striking out six.
"I made three terrible pitches, and when you let those go, you know they're not going to come back, but it was a good thing nobody was on," Nolasco said. "For the most part, I made good, quality pitches and gave us a chance to win."
Rizzo added his second homer in the bottom of the eighth, becoming the first Cub since Ron Santo to record two 15-homer seasons before the age of 24.
While Rizzo has been hot -- batting .450 with three homers in his last six games -- Lake has not. After becoming the first Cub since 1989 to record a hit in his first seven games -- during which he hit .484 -- Lake struggled to the tune of a .115 average in his previous six contests, before receiving his first day off -- aside from an eighth-inning pinch-hit appearance -- in Wednesday's series finale against the Brewers.
That break appeared to work, as Lake also flashed solid defense -- including slamming into the brick wall in left field while making a catch down the line in the ninth inning.
Lake said he was hurt a little on the play, but chalked it up to a learning experience. When asked if he knew the wall was made of brick, he responded with a smile, saying: "Now I know."
And despite the loss, Lake's discovery wasn't the only reason to smile.
"It's nice to see Laker come back and hit two home runs after having a tough little week," Sveum said. "Rizzo's starting to swing the bat a little better and is swinging the bat really well so far on this homestand."
But on Thursday, not even Lake and Rizzo were enough to stop the hottest team in baseball.
Cash Kruth is a reporter for MLB.com. Follow him on Twitter at @cashkruth. This story was not subject to the approval of Major League Baseball or its clubs.