Hairston, Hanley lead determined LA squad over Cubs
Hairston, Hanley lead determined LA squad over Cubs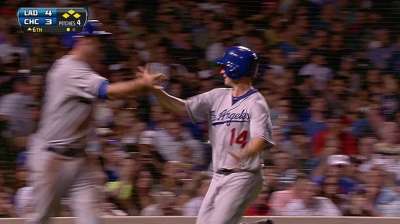 CHICAGO -- A tough loss to the Yankees Wednesday night, a four-hour overnight flight to the Midwest and barely any sleep before Thursday night's game gave L.A. plenty of excuses to play like zombies against the Cubs.
Six weeks ago, that's what the Dodgers looked like when they flew all night to San Diego after a day/night doubleheader at Yankee Stadium and dropped back-to-back games to the Padres.
That was rock bottom, 9 1/2 games out, and ever since, the Dodgers have been on a tear that continued on a perfect Wrigley Field evening with a 6-4 win, even though the Cubs hit four solo home runs, two each by Junior Lake and Anthony Rizzo.
The Dodgers countered with a two-run double from Hanley Ramirez, a clutch two-run pinch-hit single from Jerry Hairston and an insurance solo homer from Yasiel Puig.
"I don't feel well-rested. It gets to everybody," said Hairston. "No excuses. You know there's tough travel days in the big leagues. We've had them. The Cubs didn't feel sorry for us. Every club has them."
The Dodgers turned this one into the 11th consecutive road win, the most for a Dodgers team since 1955 (also 11). It restored their division lead over Arizona to a season-high 3 1/2 games.
"It's gotten to the point where we're not afraid of being on the road," said manager Don Mattingly, whose club once was eight games under .500 away from home.
The win left the club 11-2 since the All-Star break and 28-7 in its last 35 games. L.A. hasn't lost back-to-back games since that pair in San Diego on June 20-21.
"It didn't come easy, and that's what I like about it," said Mattingly. "We came from behind."
The Dodgers trailed 2-0 after the first, but Ramirez's double tied it. They trailed 3-2 after Lake's second homer, but turned that into a 5-3 lead when Hairston batted for starting pitcher Ricky Nolasco, and his two-run single keyed a three-run sixth inning. Puig went 2-for-4 with a walk and slugged his 11th home run in 51 games.
Nolasco was flown into town ahead of the team to get normal rest, so maybe sleep is overrated. He notched the win in five innings, and three of the four hits he allowed were home runs. He also struck out six. He is 2-1 with the Dodgers, but they are 4-1 in his starts.
"I made three terrible pitches, and when you let those go, you know they're not going to come back, but it was a good thing nobody was on," he said. "For the most part, I made good, quality pitches and gave us a chance to win."
Relievers J.P Howell, Chris Withrow and Kenley Jansen pitched scoreless relief, but Paco Rodriguez gave up Rizzo's second homer, his first earned run allowed since June 5.
Withrow put out a two-on, two-out fire in the sixth by striking out pinch-hitter Cody Ransom -- the biggest out of the night for the winners. He added a perfect seventh inning, emerging as a rookie that Mattingly trusts.
"In a way, it feels good to know what I've gone through and where I am," said Withrow. "But there's a lot of work to do."
Hairston, envisioned as a role player who was forced into extended duty by the early-season injury siege, hasn't had many chances to be a star, but he stepped up with the two-run single off Michael Bowden after driving in only one run in 22 previous pinch-hit appearances.
Scott Van Slyke led off the sixth with a single, Mark Ellis walked and Cubs starter Chris Rusin was relieved by Bowden. Tim Federowicz bunted the runners over and Hairston shot the first pitch back through the box to score Van Slyke and Ellis. Puig's two-out double sent Hairston to third and he scored on Adrian Gonzalez's single, with Puig out at home after a late break off second base.
Rizzo's second homer of the game cut the lead to one, but Puig's blast in the top of the ninth gave extra breathing room to Jansen, who struck out the side in the bottom of the ninth on 12 pitches for his 15th save. He's retired the last 19 batters he's faced.
"Kenley had a 28-pitch appearance, and since then he's been really efficient," Mattingly said. "It's like he said, 'Why am I wasting those pitches?' He's really gone after the strike zone and trusted his stuff and allows us to feel better about using him."
Ken Gurnick is a reporter for MLB.com. This story was not subject to the approval of Major League Baseball or its clubs.