Mattingly on Kersh: 'It's hard to say anybody's better'
Mattingly on Kersh: 'It's hard to say anybody's better'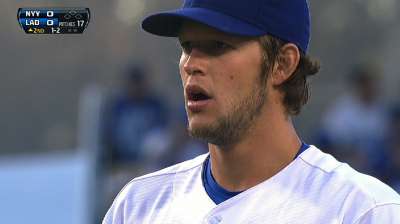 CHICAGO -- During Don Mattingly's 14-year career, Roger Clemens, Bret Saberhagen and Randy Johnson were among the American League Cy Young Award winners.
But Mattingly said he can't recall a pitcher from his era like Clayton Kershaw, who threw an eight-inning gem against the Yankees on Wednesday night.
"It's hard to compare anybody that was as good as Kersh," the Dodgers manager said Thursday. "Kersh, at this point, is just different. The guys I've seen, it's hard to say anybody's better than that guy."
Kershaw outdid himself in July with a 1.34 ERA, a 0.596 WHIP and a 21.50 strikeout-to-walk ratio. Since 1916, no pitcher with at least six starts has done better in a month. He struck out 43 and walked only two.
Mattingly said Kershaw's arsenal of pitches coupled with his attacking mentality leaves opponents with hard choices.
"Try to ambush him early [in the count], but that's dangerous, because if you don't get on base, his pitch count is down, and he goes deep into the game," said Mattingly. "That's why I like [the Mets'] Matt Harvey, a power pitcher that throws strikes and can pitch deep in a game. For me, that's a true ace, who gives the bullpen a day off."
Kershaw leads the Major Leagues with a 1.87 ERA and a .185 opponents' batting average. He's second in the National League with 161 strikeouts and 168 1/3 innings pitched. He's tied for second place in the league in both shutouts (2) and complete games (3).
Here's how Mattingly, the former batting champ, would approach an at-bat against Kershaw: "I'd try to give and take," he said. "I'd choose one side [of the plate] and leave the other alone. I'd limit what I've got to cover."
Ken Gurnick is a reporter for MLB.com. This story was not subject to the approval of Major League Baseball or its clubs.