Former Cub Marmol content to be on winning team
Former Cub Marmol content to be on winning team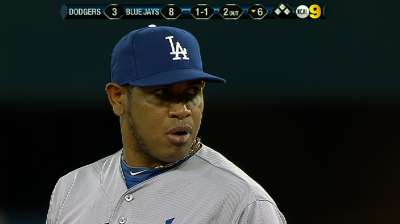 CHICAGO -- Carlos Marmol hasn't established anything with the Dodgers yet. He hasn't even pitched in the last five games.
But upon his return to Wrigley Field for the first time since the Cubs traded him on July 2, Marmol said he was looking forward, not back.
"That's over with. That's it," he said. "I'm a Dodger now. I'm happy to be a Dodger."
A former All-Star closer who lost that job when his mechanics went awry, Marmol has appeared only twice for the Dodgers, allowing four runs on six hits and two walks in just 2 2/3 innings. Had he performed better, maybe the Dodgers wouldn't have signed free agent Brian Wilson this week, another former All-Star closer who could take innings away from Marmol.
Surrounded by Chicago writers at his locker in the visitors' clubhouse at Wrigley Field, Marmol sounded happy with his new job.
"It feels great to be on this side [of the ballpark]," he said. "At some point, you've got to make a move that's better for the team. I don't mind. Tell Theo [Epstein, Cubs president] he made a good move. I'm a Dodger, in first place. How about first place, huh?"
Ken Gurnick is a reporter for MLB.com. This story was not subject to the approval of Major League Baseball or its clubs.