Johnson's struggles bury Blue Jays in Anaheim
Johnson's struggles bury Blue Jays in Anaheim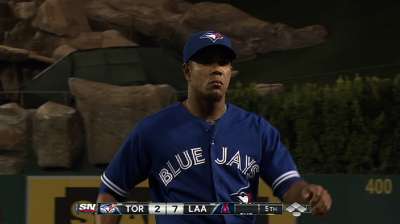 ANAHEIM -- Josh Johnson had visions of grandeur when he joined the Blue Jays during the offseason, but now finds himself wondering where it all went so horribly wrong.
Toronto's right-hander is in the midst of what can easily be described as his most frustrating and trying season as a professional athlete. Expectations couldn't have been higher coming into the year, and in the ensuing four months it has all come crashing down, start by start.
Johnson's struggles became even more apparent on Thursday night as he surrendered seven runs on 10 hits over 2 1/3 innings before walking off the field with his head hanging in what turned into an 8-2 loss against the Angels.
"Just frustration, that's it," Johnson said when asked what he was currently going through. "I'm out there trying to battle, trying to get through it and trying to stay positive. The worst part is doing that to my bullpen, doing that to my teammates having to stand out there and watch it."
Johnson has now allowed at least five runs in all but one of his past seven starts. Since June 23, he is 1-6 with an 8.84 ERA while allowing 56 hits and 13 walks in 37 1/3 innings.
The 29-year-old has seemed incapable of settling into any type of groove. In the first two innings of his past six starts, Johnson has allowed 21 earned runs. As a result, he's lost all six games, recording the longest losing streak by a Blue Jays pitcher this season.
In this one, he allowed four runs in the first inning, all with two outs. Johnson gave up a leadoff single to Kole Calhoun before retiring Mike Trout and Josh Hamilton, but the Angels followed with four hits and a walk. Howie Kendrick had an RBI single, Mark Trumbo added a two-run homer and J.B. Shuck singled in Erick Aybar.
Los Angeles added another run in the second on a Hamilton sacrifice fly before things really fell apart in the third.
Johnson allowed three consecutive hits to begin the inning, and after a sacrifice fly by Shuck and an RBI single by Chris Iannetta, Johnson was pulled with one out and the bases loaded. The 2 1/3 innings marked his third-shortest start of the season and resulted in yet another long night for the bullpen, though at least 2 2/3 scoreless innings by Juan Perez lightened the load.
Blue Jays manager John Gibbons stopped Johnson just before he was about to walk off the field. There were words of encouragement for the embattled starter who is doing everything he can to turn things around but has few -- if any -- positives to build from.
"He's one of our guys," Gibbons said. "He works as hard as anybody, and it's a cruel business. He's one of those guys you root for, he has that personality. He's a good guy and you feel for guys like that. He's had a lot of success at this level and he's rock bottom right now."
Things were never expected to get this bad for Johnson, who was a major component of the Blue Jays' blockbuster trade with Miami in the offseason. The former National League ERA leader is a free agent at the end of the season and was expected to be in line for a multiyear contract north of $100 million.
That's all changed. Johnson will be hard pressed to even get a qualifying offer from the Blue Jays at the end of the year, which would put his 2014 salary at approximately $14 million. He's expected to get about 10 more starts, but even that could be in jeopardy as the Blue Jays evaluate their rotation options for the final two months of the season.
Johnson would like an opportunity to turn things around, but for now there are no clear answers. He moved to the first-base side of the rubber for Thursday's game, but that did little to improve his ability to locate the ball on the outside corner of the plate to right-handed hitters. Johnson's mechanics remain a work in progress, but his confidence appears shaken.
"The small adjustments we made obviously didn't help too much tonight," Blue Jays pitching coach Pete Walker said. "They put some good swings on the ball. Certainly, I think he elevated some pitches, definitely pitched to the middle of the plate.
"We'll look at everything from tipping to whatever at this point to figure out how to get him through that inning and get him through the rest of the season."
With the Blue Jays seemingly out of the game by the third inning, it did little to stir the offense. Toronto did manage to score two runs in fifth inning, as Colby Rasmus doubled Adam Lind from first to third, and Lind scampered home when Calhoun juggled the ball in the right-field corner. Rasmus then scored on a grounder by Maicer Izturis. Rasmus has now hit safely in 23 of his past 29 games and has 13 doubles, three homers and 19 RBIs over that span.
That was all the Blue Jays could generate off Angels right-hander Garrett Richards, who allowed just four hits and two walks while striking out four over seven strong innings. Richards has split his time this season between the rotation and bullpen but has allowed only four earned runs since June 29.
"I'm trying to make the most of my opportunity right now," Richards said. "Just trying to go out and give us a chance to win every time, throw the ball down in the zone. Strike one is important, I feel like I probably could have controlled counts a little better tonight."
Toronto now drops to 2-2 on its current 10-game road trip through Oakland, Anaheim and Seattle. The only way the Blue Jays can secure their third consecutive series victory is by taking the remaining three games against the Angels. The clubs' four-game set continues on Friday night at Angel Stadium.
Gregor Chisholm is a reporter for MLB.com. Read his blog, North of the Border, and follow him on Twitter @gregorMLB. This story was not subject to the approval of Major League Baseball or its clubs.