Maturing Britton shows poise in first career win
Maturing Britton shows poise in first career win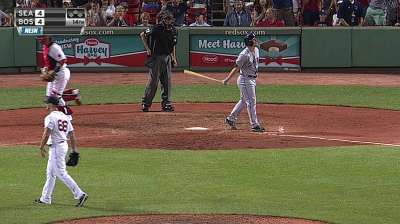 BOSTON -- David Ortiz called Drake Britton over to his locker just moments after he picked up his first career Major League win.
Ortiz grabbed his hand, pulled him close and patted him on the back, congratulating the 24-year-old left-hander on a job well done.
It wasn't long ago that Ortiz and plenty of others barely had an idea who Britton was. Those who did likely associated him with his arrest for driving under the influence in March earlier this year.
More than four months later, his manager and teammates say Britton has matured. That maturity has led to Britton better being able to handle things off the field, manager John Farrell said. And as he's matured off the field, he's started to get more attention for what he's done on it.
"He's quickly gained a lot of acknowledgement among his teammates down there and a lot of guys have a lot of confidence in him -- including us, the staff," Farrell said.
The physical talent has never been the question for Britton. His live arm has always made him an intriguing prospect. He's lived up to that potential ever since the Red Sox promoted him to pitch in the squad's ailing bullpen, which has fallen victim to three season-ending injuries this season.
He has yet to give up a run in six appearances spanning eight innings. During the 15-inning game the Red Sox won Wednesday, Britton was forced into the game on short rest. He pitched a scoreless 14th and 15th innings and after Stephen Drew hit the game-winning single in the bottom of the 15th frame, he earned his first Major League win.
"I was prepared to go as long as they wanted me to," Britton said. "It was just an amazing feeling to be out there on the mound with all those guys behind me and to be able to win it."
It wasn't the first time Britton has been put in a tight spot. A Boston bullpen short on arms has had no choice but to turn to the rookie with the game on the line. So far, he's thrived.
"Thank God he's responded," Farrell said.
The next step will be to see how Britton responds after things don't go his way. Whether he can perform at the same level after a rough outing will be a determining factor in how valuable Britton can be as Boston pursues a deep playoff run this season, Farrell said.
"We'll probably see a different side of him how he responds to maybe a situation that doesn't go well," said Farrell. "That's going to be another insight into him as a competitor."
At least for now, the Red Sox manager will continue to rely on his new weapon out of the bullpen. Until he's given a reason to doubt Britton, Farrell won't go searching for one.
"The biggest thing to me that stands out is just his overall poise," he said. "You know on short rest, multiple innings again he's shown resiliency physically. And the consistency from the mental standpoint, he's got exceptional concentration ability that he's shown in a short period here."
Michael Periatt is an associate reporter for MLB.com. Follow him on Twitter @Michael Periatt. This story was not subject to the approval of Major League Baseball or its clubs.