Peavy's arrival, taxed bullpen lead to pair of moves
Peavy's arrival, taxed bullpen lead to pair of moves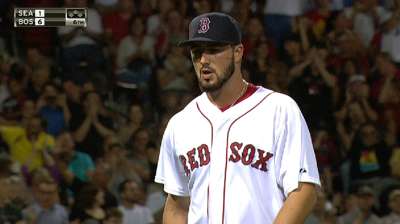 BOSTON -- It took what manager John Farrell called a "unique set of circumstances," but Brandon Workman was sent down to Triple-A Pawtucket in one of two roster moves the club made Thursday.
The arrival of Jake Peavy and a taxed bullpen in the aftermath of a 15-inning game on Wednesday was enough to send the right-hander back to Pawtucket. His performance had nothing to do with it, Farrell said. The Sox just needed another arm with endurance in the bullpen -- Steven Wright -- and Workman will not be available to throw after pitching six innings on Tuesday.
Right-hander Jose De La Torre was also sent down to Triple-A to make room for Peavy on the active roster.
"A unique set of circumstances that we had to make two roster moves today," Farrell said. "One, for obvious reasons in Jake's arrival, and then two, … for the simple fact that if something unforeseen happened early in the game, we need someone that's got the capability of five or six innings. Steven has that where as we didn't feel as if Jose has that kind of length built up."
Workman had been effective as a fill-in starter for the injured Clay Buchholz, recording a quality start in his last three outings. He'd still be in the rotation if the Sox hadn't completed the deal for Peavy.
Workman's stay in Pawtucket isn't expected to be a long one, and when he returns to the Red Sox, it will be as a reliever. Farrell said the team would still like him to maintain his endurance in the event the club needs a spot start in the future.
"Over the next 10 days we will get multiple innings for him," Farrell said. "There's no plans to start him but depending on what happens the next couple days that could possibly change."
Wright has made two appearances for Boston this season, compiling a 4.82 ERA over 9 1/3 innings. He has a 5-6 record with a 3.82 ERA in Pawtucket.
Michael Periatt is an associate reporter for MLB.com. Follow him on Twitter @Michael Periatt. This story was not subject to the approval of Major League Baseball or its clubs.