Marmol returns to old home with new team, outlook
Marmol returns to old home with new team, outlook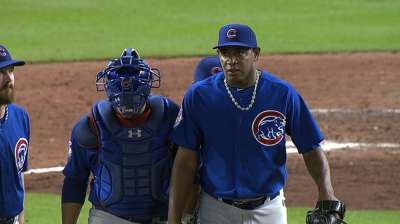 CHICAGO -- Carlos Marmol returned to Wrigley Field for the first time on Thursday since his July 2 trade to the Dodgers for the opener of a four-game set against the Cubs. The reliever said that while he enjoyed his time on the North Side, he has put that part of his career behind him and is now focused on winning with his new team.
"I've got a lot of good memories," Marmol said of his time in Chicago. "[When] we made the playoffs, that was awesome."
Marmol spent all seven seasons of his Major League career with the Cubs before being traded in his eighth, but he doesn't have any hard feelings.
"At some point, they've got to make a move," Marmol said. "They have to do what's better for the team. I don't mind, though. Tell [Cubs president of baseball operations Theo Epstein] that he made a good move. I'm [with] the Dodgers in first place."
With regard to preparing for a game in the visitors' clubhouse for the first time, Marmol said it felt strange, but he's happy.
"I feel good," he said. "It's a little weird, but, I mean, I've never been in [this] situation before. It's kind of a little different, but I feel great to be here, seeing all the guys, guys that have been playing with me a long time."
Marmol, who posted a 5.86 ERA before the trade, emphasized that he has put his Cubs days -- as well as the first half of the season -- in the rearview mirror.
"The Cubs, for Carlos Marmol, is over," he said. "I'm a Dodger now. I'm happy to be on the Dodgers. ... The beginning of this year is over. Now you've got to think about the second half."
That second half has gone well so far for the Dodgers, who are 10-2 since the All-Star break and were 19-6 in July, propelling them into first place in the National League West. Marmol is excited to be on one of the hottest teams in baseball. At the beginning of the season, he didn't think he'd have the chance to pitch in October.
"No, not even close," he said of the prospect of playing in the postseason.
Cubs manager Dale Sveum said he understands that there's usually some extra motivation for players facing a former team.
"I think there is," Sveum said. "I've been traded a couple times, and I think you're always motivated. ... It's different when you play the team that you've been traded from."
Marmol doesn't know what to expect if and when he takes the mound in this series.
"I don't know what it's going to be [like]," he said. "I hope I strike out all three that I have to face," he added with a smile.
Cash Kruth is a reporter for MLB.com. Follow him on Twitter at @cashkruth. Manny Randhawa is an associate reporter for MLB.com. Follow him on Twitter at @MannyBal9. This story was not subject to the approval of Major League Baseball or its clubs.