Sveum sees clutch hitting as unique skill
Sveum sees clutch hitting as unique skill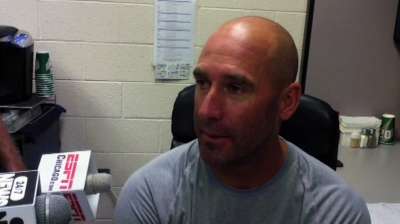 CHICAGO -- The argument about whether clutch hitting exists doesn't get the same publicity of the sabermetric vs. traditional stats debate, but it is certainly an interesting argument.
Is there really such a thing as clutch hitting? Or is it simply a stroke of BABIP -- batting average on balls in play -- luck?
As far as Cubs manager Dale Sveum is concerned, clutch hitters do, indeed, exist.
"I've been in the game long enough where you see what guys do when nobody's on base, and see what they do when people are in scoring position. It'll be a whole different at-bat," Sveum said. "So there's definitely a difference."
If that's the case, the Cubs lack clutch hitters this season. Chicago is batting .227 with runners in scoring position -- the second-lowest mark in the Majors -- and .231 with RISP and two outs.
But if clutch hitting is a skill, as Sveum believes, it's not one that hitters can hone by spending more time in the video room.
"You can talk all you want about hitting mechanics and everything like that, but it's hard to find that heart rate that handles that situation better than other people," Sveum said. "Sometimes it comes with the more times you're doing it, and understanding your job is hitting a single with men in scoring position.
"Our biggest problem is we want to hit three-run homers with guys on second base instead of just driving a guy in."
Cash Kruth is a reporter for MLB.com. Follow him on Twitter at @cashkruth. Manny Randhawa is an associate reporter for MLB.com. Follow him on Twitter at @MannyBal9. This story was not subject to the approval of Major League Baseball or its clubs.