Lefty Avilan relishes being key arm for Braves
Lefty Avilan relishes being key arm for Braves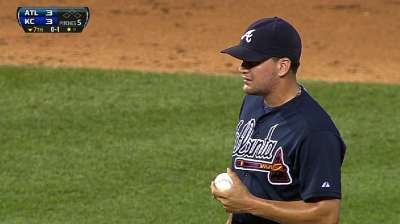 ATLANTA -- Monday's acquisition of Scott Downs ensured that Braves reliever Luis Avilan would not be overworked down the stretch as the only left-handed pitcher in the bullpen. This time last year, Avilan could not have imagined putting together such a productive run that the team would even see the need to lighten his load.
"Back then, I didn't even realize I was in the big leagues, because the Atlanta Braves organization has a lot of prospects, and I didn't even know," Avilan said. "If you told me two years ago I was about to play in the big leagues, I would've told you, 'No, I can't believe it.'"
After making his Major League debut on July 14, 2012, Avilan posted a 2.00 ERA in 36 appearances down the stretch, but that early success didn't mean he had completely settled in to the pressures of big league competition.
"Probably in the middle of August last year, I was like, 'OK, I'm in the big leagues. Now I have to work even harder to try to stay here,'" Avilan said.
Just a few weeks removed from the one-year anniversary of his callup, Avilan has surpassed the expectations of many. In late May, just a few days after fellow lefties Eric O'Flaherty and Jonny Venters underwent season-ending Tommy John surgery, Avilan began his streak of 28 scoreless appearances, in which he has allowed just eight hits over 25 1/3 innings of work.
With a more aggressive approach against top competition this season, Avilan has settled into a groove on the mound that has limited the sting of the Braves' rash of left-handed Tommy John patients.
"Last year, I gave a lot of respect for the older guys," Avilan said. "This year, [bullpen coach] Eddie Perez and Eric O'Flaherty talked to me like, 'Hey, don't give the other guy too much credit. You're a big leaguer, too, so just throw the ball. You have enough skills to get those guys out -- just throw the ball over the plate.'"
Those skills needed protecting, and after Avilan appeared in 48 of the team's first 105 games, the Braves traded for the veteran Downs to preserve Avilan's arm for a potential playoff run.
"I know Frank Wren is thinking about making the playoffs, and I know he's going to pick the best guy out there, so I'm sure this guy's going to help us a lot -- not just me being another lefty in the bullpen, but he's going to help the whole team to make the playoffs," Avilan said.
Eric Single is an associate reporter for MLB.com. This story was not subject to the approval of Major League Baseball or its clubs.