Astros can't spoil Norris' debut in loss to O's
Astros can't spoil Norris' debut in loss to O's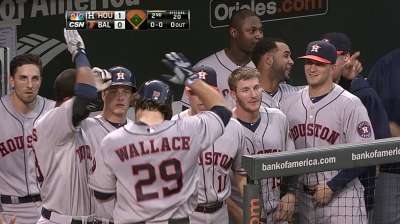 BALTIMORE -- Bud Norris tried to approach Thursday as a typical start, even though it was anything but. He was wearing a new shade of orange, in a different clubhouse and in the thick of a pennant race only a day after being dealt by the Astros, the only team he'd ever known.
Wearing the black and orange of the Orioles, he tried his best to block out the guys in the other dugout, some of them teammates he's had for the last four years and many of them his friends. He tried his best to focus on the catcher and not pay attention to who was standing in the box.
Norris channeled his emotions and got the best of his former team in his first start for the Orioles, holding the Astros to a pair of runs -- on two solo homers -- and four hits while striking out a season-high eight batters in a 6-3 win at Camden Yards.
"Somewhere in the third or the fourth, I glanced over to the [Astros] dugout and I said, 'Let's not do that again,'" Norris said. "So, I just stayed on the glove and really just wanted to keep pounding the strike zone."
The win was the first in nearly a month for Norris, who was drafted and developed by the Astros and played four seasons in Houston before being traded to Baltimore prior to Wednesday's non-waiver Trade Deadline for outfielder L.J. Hoes and a Minor League pitcher.
"I've been working a long time in my career to be in a postseason and a pennant race and this is exactly what it is," Norris said. "To be thrown in the fire and to go out there and to be able to control myself and my emotions was pretty special. A lot of breathing, a lot of stepping off the mound and just taking my time. But at the same token, it was very special and I'm very happy with the win."
The Astros also tried to approach Thursday as evenly as they could, which is hard to do when the man on the mound who was trying to get them out was in their clubhouse the day before. Brett Wallace, who played against Norris in high school in the Bay Area, said it was odd facing his friend and former teammate.
"Leading up to the game it's kind of weird seeing him over there getting loose, getting ready," Wallace said. "Once the game started, it was really just battling and you try to block out all the ex-teammate, ex-guy that was in our clubhouse the day before. I think once we were actually in the box facing him and battling, you try to do your best to block it out and try to have good at-bats against him."
Astros starter Jordan Lyles had a 2-0 lead on the strength of solo homers by Wallace and Marc Krauss before the Orioles broke a long scoreless drought with three runs in the fifth inning and two in the six to take a 5-2 lead.
Lyles (4-5) lost his fourth consecutive decision and hasn't won since June 18. He worked 5 2/3 innings and allowed five runs (three earned) and nine hits.
"I just hit a couple of speed bumps at the end," Lyles said. "Same story. I have to pitch better when guys are on base."
Orioles slugger Chris Davis blasted his 39th homer of the season to reach 100 RBIs in the seventh inning off relief pitcher Travis Blackley.
The first two hits Norris allowed in a Baltimore uniform were to two of his closest former teammates -- a single by catcher Jason Castro in the first inning and a second-inning homer by Wallace. Hoes singled for his first Major League hit off Norris in the third. Krauss lifted a homer to left in the fourth.
"Facing a good team like this, you want to get out ahead, so it definitely feels good to try to get that first run on the board and maybe put us up," Wallace said. "That way we can roll with the momentum a little bit. Obviously, known [Norris] and growing up playing against him, it's fun. We're definitely competitive when we play against each other, so it felt good. We were more worried about getting the win and that's what we were focusing on."
Lyles was sharp early, retiring 13 of the first 16 batters he faced before the Orioles had four consecutive batters reach base in the fifth on three singles and an error by shortstop Jonathan Villar. A sacrifice fly by Nick Markakis put the Orioles ahead, 3-2, but two of the runs were unearned.
"Whenever you start to give them extra outs, the odds are they're going to put up some runs because they've got a good offensive team over there," Astros manager Bo Porter said. "And it's unfortunate that error did prolong the inning, and Jordan seems to run into those kinds of innings every once in a while. It seems like he's pitching well, pitching well, pitching well and all of a sudden he has a chance to minimize the damage, and whether it's an error or double play not turned, just seemed to always find him."
Lyles was chased from the game after giving up an RBI single to Brian Roberts, and Blackley's first pitch to Nate McLouth was lined into right field to push home another run and put Norris and the Orioles in control, 5-2.
"He was typical Bud Norris," Porter said. "Great command, pitched to both sides of the plate, and I thought he did a really good job of throwing some good sliders in some hitter's counts and really took advantage of a little bit of over-aggressiveness of some of our guys."
Brian McTaggart is a reporter for MLB.com and writes an MLBlog, Tag's Lines. Follow @brianmctaggart on Twitter. This story was not subject to the approval of Major League Baseball or its clubs.