O's swing bats to help Norris knock off Astros
O's swing bats to help Norris knock off Astros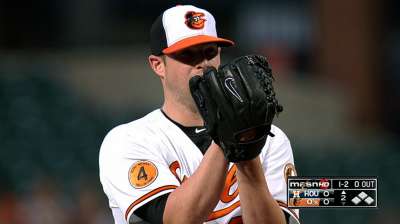 BALTIMORE -- It was somewhere in the third or fourth inning when Orioles starter Bud Norris allowed himself to take a quick glance into the visiting dugout, and the oddity of seeing players and coaches he was alongside two days ago was overwhelming enough for the 28-year-old to quickly look away.
"I said, 'Let's not do that again,'" Norris said. "I just stayed on the glove and really just wanted to keep pounding the strike zone."
Mission accomplished. Norris' swan song to his former club, which coincided with the Orioles' offense finally coming alive, provided an encouraging display on Thursday night as the right-hander fired six quality innings in a 6-3 win over the Astros.
One day after being acquired at the non-waiver Trade Deadline, Norris held Houston to four hits and the O's backed their newest pitcher with a superb effort -- highlighted by Chris Davis' 39th homer and 100th RBI -- to win the rubber game in front of 17,909 at Camden Yards.
"I've been working a long time in my career to be in a postseason and a pennant race and this is exactly what it is," Norris said. "To be thrown in the fire and to go out there and to be able to control myself and my emotions was pretty special. A lot of breathing, a lot of stepping off the mound and just taking my time. But at the same token, it was very special and I'm very happy with the win."
Norris also got the first shaving cream pie of his career, in a dual postgame effort by Adam Jones and Alexi Casilla, to cap an emphatic opening to his Orioles career.
"I just saw him come up, he seemed to be wearing it well, so to speak," manager Buck Showalter said of Norris' dousing. "You didn't expect anything less, did you? Mine's coming, mine's coming. There's a reason why they don't ask me to do anything after the game. I hope it's late in October."
The win helps the Orioles keep that hope alive as Baltimore (60-49) tries to get back on track in the American League East. The third-place O's, who won for the third time in their last nine games, remain 5 1/2 games back of first-place Boston.
"I guess it's already time to 'Buckle Up' again, as they say," said Davis, after watching the Red Sox walk-off win over Seattle in the middle of his interview. "I know everybody in here feels good about where we are at late in the season and we understand that nobody is going to hand us anything. I don't think we would want that anyways. But we have our work cut out for us."
Norris did the heavy lifting on Thursday, picking up a season-high eight strikeouts and allowing just a pair of homers in an impressive 104-pitch outing.
"He was typical Bud Norris," said Astros manager Bo Porter, who watched the righty turn in his 14th quality start in an entirely different setting. "Great command, pitched to both sides of the plate, and I thought he did a really good job of throwing some good sliders in some hitter's counts, and really took advantage of a little bit of over-aggressiveness of some of our guys."
Working on a week's worth of rest, Norris fell into an early two-run deficit with homers from Brett Wallace and Marc Krauss, but held firm after that. He didn't allow a hit after Krauss' two-out blast in the fourth inning, retiring seven of eight before handing the ball over to the bullpen.
"I just wanted to get comfortable with [catcher Matt Wieters]," Norris said. "That was my biggest key and these guys are going to make the plays behind me so that was the biggest thing. Those guys know me pretty well. They know my reports. They know what I like to do in certain counts and situations, so it was a little bit more of a challenge mentally, but I just stuck with Matt for the most part and things worked out."
"There weren't many shake-offs at all tonight," Wieters said. "It's something where he had command of everything so it makes it easier for a catcher. Anytime you can throw offspeed when you're in fastball counts, it's going to make it easier."
The Orioles snapped a 15-inning scoreless stretch with a three-run fifth inning off Astros starter Jordan Lyles, capitalizing on a key error by shortstop Jonathan Villar to plate a pair of unearned runs.
Things got started with Henry Urrutia's one-out single and Villar whiffed on No. 9 batter Brian Roberts' ball, which scooted into left field, to put runners on the corners. Nate McLouth's left-field single gave the Orioles their first run since the sixth inning of Tuesday's game and Manny Machado followed with an RBI hit into right field. Nick Markakis gave the Orioles the lead with a sacrifice fly to deep left field.
The bottom-of-the-order sparked a two-run sixth, with J.J. Hardy and Urrutia picking up two-out hits and Roberts following with an RBI single to chase the 22-year-old Lyles from the game. McLouth drove in his second run, this time off reliever Travis Blackley, to extend the O's lead to three.
Davis gave the O's their sixth run in memorable fashion, connecting for a two-out, seventh inning homer on a line drive to right field off Blackley. The blast, Davis' second since the All-Star break, makes the first baseman just the 39th player in franchise history to reach the 100-RBI mark in a single season. The feat was last accomplished by Markakis in 2009.
"I'm proud of him," Showalter said of Davis' historical season. "He's handled it well, the good and the bad. He gets frustrated at things, but to have 100 RBIs and be hitting .300, that's quite a combo. You've heard it 100 times, don't roll your eyes, but his contact to damage ratio, whether it be doubles or singles or home runs, we're fortunate to have him. We're fortunate to have him. He's been a big part of us being competitive."
Tommy Hunter followed Norris and allowed a run over 1 2/3 innings, with lefty Brian Matusz picking up the final out of the eighth on a diving grab by Markakis in right field. Closer Jim Johnson picked up his Major League-leading 37th save, pitching around a walk and hit batsman to seal the win for Norris.
"The fact that he pitched the day after he was traded against his former team and was able to go out there, I mean they obviously knew plenty about him and had seen plenty of him, so to go out and compete the way he did was huge," Davis said. "That's what we expect out of him, to eat up innings and keep us in the ballgame."
Brittany Ghiroli is a reporter for MLB.com. Read her blog, Britt's Bird Watch, and follow her on Twitter @britt_ghiroli. This story was not subject to the approval of Major League Baseball or its clubs.