Matheny taking care to monitor Carpenter
Matheny taking care to monitor Carpenter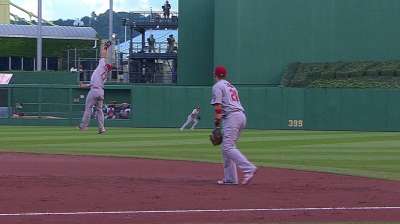 PITTSBURGH -- Manager Mike Matheny has talked a lot lately about finding ways to get his players rest. He sits Carlos Beltran from time to time, hopeful that those days off now will translate into more production later. For Shelby Miller, the insertion of a 12-day break between starts last month was designed to address an innings and workload concern.
No one on the Cardinals' roster, though, has been worked harder than second baseman Matt Carpenter, who is playing through his first full season as an everyday Major Leaguer at a position he had never played a year ago. Carpenter has started as many games (99) as anyone on the roster, and that comes after he took little time off over the winter.
All of that work, coupled with his 2-for-24 skid, prompted Matheny to rest him on Wednesday, and Carpenter may also require careful monitoring moving forward.
"When you play so many games in a row -- especially with how some of these games have gone, the close nature and some of the disappointment at the end -- those really wear on guys," Matheny said. "Every once and a while, coming in with a little different routine can help them carry on for a while. For the most part, you don't want to get in the way of their routine, especially if they're being successful. I haven't been seeing much fatigue from Matt. I just saw the grind of a long season and being one of those guys who has hit a lot of hard line drives at people. That just turns into frustration."
Though he leads the National League in multihit games, with 40, Carpenter has been slow to find his footing since the All-Star break. He does not, however, equate a dip in results with fatigue. He said that he has changed his pregame routine from last year to this in order to account for the increased playing time.
That includes cutting down on the running, lifting, and time in the batting cage, knowing that his energy now needs to be better conserved.
"This year I developed a routine where I'm in [the batting cage] before the game, I'm still putting in a ton of work, but I'm trying to maximize the quality as opposed to the quantity and then being able to preserve that energy for when the game starts," Carpenter said. "A lot of this is unknown for me. I've never played 162 games before. I'm trying to learn what works and trying to stay as fresh as possible."
And how does he feel this far into the season?
"I feel great right now."
Jenifer Langosch is a reporter for MLB.com. Read her blog, By Gosh, It's Langosch, and follow her on Twitter @LangoschMLB. This story was not subject to the approval of Major League Baseball or its clubs.