Cardinals' power drought continues in July
Cardinals' power drought continues in July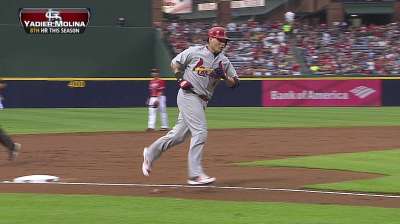 ST. LOUIS -- A Cardinals offense that returned five players who hit at least 20 homers a year ago just wrapped up a July that featured some of the lowest power numbers in franchise history.
In 25 games, the Cardinals hit nine home runs, averaging one every 93 at-bats. For comparison sake, consider that Alfonso Soriano, now of the Yankees, hit nine in his 91 at-bats during the month. Texas' Adrian Beltre matched the Cardinals' total, too.
Only four previous times in team history have the Cardinals hit fewer July home runs. The 1933 club hit just five. The Cards finished with eight in 1949, 1968 and 1986. This last month, Yadier Molina, Matt Carpenter and Matt Holliday led the team with two home runs apiece. Molina, who is now on the disabled list, is the only one who has gone deep since July 10.
"I spent a lot of time listening to [former hitting coach] Mark [McGwire] and [then-assistant hitting coach] John [Mabry] talk last year about kind of the philosophy and approach. It's basically what we're doing this year," manager Mike Matheny said. "There's not a different agenda. There's not a different game plan. But for whatever reason, yeah, we're not seeing the power numbers. But we are getting the production numbers, and the offense has done very well. There's certainly no reason to start throwing alarm out there to these guys to do anything different."
With 83 home runs this season, the Cardinals have hit the fewest through 106 games since the 1995 team tallied only 75. It puts the Cards on pace to finish the year with 129. They hit 159 in 2012. Only two players (Carlos Beltran and Holliday) are on a pace to hit 20, though Beltran hasn't hit a home run since June. He leads the team with 19.
The spotlight on the power drought has been a bit brighter lately, mostly because of the Cardinals' recent difficulties to score runs. Overall, though, the Cards have compensated for the lack of power with incredible success hitting with runners in scoring position. That's why the team, despite ranking 13th in the NL in home runs heading into Thursday's game, still tops the league with 505 runs scored.
"You can't try to hit home runs. It doesn't work like that," said Holliday, who has hit 13. "There's no way to explain why home runs are happening at a high rate or not. There's no philosophical change. That's been the strength of our team is that we have good, tough outs. The way to score runs is to get people on base and hit with runners in scoring position. Part of our strength is that we don't have a lot of guys trying to hit home runs and then striking out a lot."
Jenifer Langosch is a reporter for MLB.com. Read her blog, By Gosh, It's Langosch, and follow her on Twitter @LangoschMLB. This story was not subject to the approval of Major League Baseball or its clubs.