Homers haunt Spruill as D-backs downed by Darvish
Homers haunt Spruill as D-backs downed by Darvish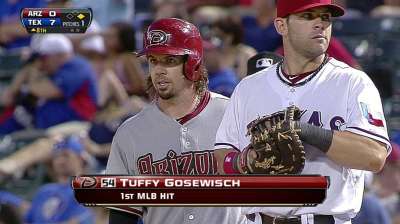 ARLINGTON -- Making his first Major League start Thursday, D-backs righty Zeke Spruill could not contain the surging Rangers offense -- not that it made much difference with Yu Darvish on the mound for Texas.
In a 7-1 loss to the Rangers, the 23-year-old rookie Spruill struggled against lefties -- allowing solo homers to A.J. Pierzynski, Mitch Moreland and David Murphy -- and could only watch helplessly from the dugout as Darvish mowed down D-backs hitters inning after inning.
"He was very effective in the zone with different sorts of pitches, and hitting his spots," said D-backs center fielder Adam Eaton, who collected Arizona's first hit off Darvish but also struck out and grounded out against the Rangers' ace. "That's the recipe for a good outing for him."
Darvish matched a career high with 14 strikeouts -- the fourth time this season he has fanned that many, including once previously against Arizona. Darvish threw seven shutout innings, allowing five hits.
But unlike in their first meeting on May 27 when Darvish fanned 14, the D-backs didn't have any late-game magic left in their bats Thursday. In the May matchup, Arizona tied the game on a home run in the eighth and left Darvish with a no-decision.
Thursday, the D-backs never got a runner past second base against Darvish, and they continued to swing freely throughout the game, something manager Kirk Gibson did not seem pleased about.
"He threw a good game, but a lot of guys have been throwing good games against us," Gibson said. "Fourteen strikeouts, you've got to make adjustments. The last time we beat him, we hung in there and we got him late, and we weren't able to hang in there tonight."
Meanwhile, Spruill, who hadn't thrown more than 1 1/3 innings in four relief appearances with Arizona in June, lasted four innings Thursday. He surrendered five earned runs on seven hits, including the three homers. He struck out three batters and walked none.
Coming off a series in which they hit three consecutive walk-off homers to sweep the Angels, the Rangers picked up where they left off in Thursday's makeup of a rainout in late May. Pierzynski, Moreland and Murphy each hit solo shots to right-center field in the second, third and fourth innings, respectively, before Leonys Martin broke the game open with a two-run double to make it 5-0 through five innings.
Spruill fell behind on each of those home runs and said he was "too predictable" Thursday.
"The pitches that they hit, I feel like they had a good idea that fastballs were coming," Spruill said. "I've got to mix it up a little bit more."
Throughout the first seven innings, the Arizona offense had no answer for Darvish's dazzling array of pitches, which included a well-commanded four-seam fastball and a deceptive slider.
The D-backs only put one runner into scoring position against Darvish, when Cody Ross singled to start the second inning and stole second on the third strike to Martin Prado. Darvish then fanned Jason Kubel and Didi Gregorius to quell the threat.
Leadoff hitter Gerardo Parra and No. 3 hitter Paul Goldschmidt both struck out three times against Darvish, while Eric Chavez and Kubel struck out twice. Only Eaton, Ross, Gregorius, Chavez and Prado managed hits off Darvish, all singles.
"He was just outstanding tonight," Rangers manager Ron Washington said of Darvish. "Everything he threw out there, they just couldn't get on."
Making his Major League debut, catcher Tuffy Gosewisch earned his first career hit with a single up the middle in his third at-bat. Gosewisch was 1-for-3 with a strikeout.
"It's really nice to get it out of the way the first game," Gosewisch said of his milestone hit. "That way I don't have to think about it, I'm not grinding on it the next three or four games."
Josh Collmenter pitched two scoreless innings in relief of Spruill, but Tony Sipp entered in the seventh and allowed two runs on a Pierzynski single -- both unearned as a result of his own error.
The D-backs avoided a shutout when Ross and Prado hit back-to-back singles in the ninth, with Ross taking second on indifference and scoring on Prado's hit.
Arizona has now lost four of its last five games and eight of 13 since the All-Star Break. Things don't figure to get any easier for the D-backs, who travel to Boston as part of a grueling six-night, three-city road trip.
"I don't want to hear about that, this is just part of the schedule," Gibson said. "We've got to come out and play better, we have to play more inspired ball. We'll have a talk tomorrow and see if we can't do better."
Dave Sessions is a contributor to MLB.com. This story was not subject to the approval of Major League Baseball or its clubs.