Harvey starts strong, but wilts in Miami heat
Harvey starts strong, but wilts in Miami heat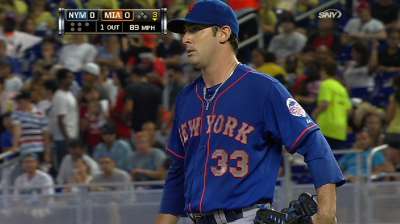 MIAMI -- Even great teams, and great players, have their nemeses.
Matt Harvey plays in a space-age stadium just north of Calle Ocho, with an electric green outfield fence and a roster stocked with players even younger than him. Considering Harvey's status as one of the top pitchers in baseball, the Marlins have no business beating him. And yet they seem to have little trouble doing so.
Despite an electric performance over his first five innings Thursday afternoon, Harvey coughed up three runs in the sixth en route to a 3-0 loss to the Marlins, who have beaten the Mets in all four of Harvey's starts against them this season. Only five times in 22 outings this year has Harvey not recorded a quality start, with three of those coming against the Fish.
"It's not like I take this start or this team any different than any other team," Harvey said. "It's just been the team that this year happens to squeeze out some runs."
This one initially seemed as if it might be different, when Harvey retired the first eight batters he faced -- five of them via strikeout. A stray single to opposing pitcher Tom Koehler and Omar Quintanilla's fielding error were the only early blemishes against Harvey, who seemed primed to accomplish something special.
But it all unraveled in the sixth. After the first two Marlins batters of the inning singled, Harvey actually appeared set to wriggle out of the jam, retiring Adeiny Hechavarria on a lineout and whiffing Giancarlo Stanton on a 3-2 slider. But Logan Morrison followed with an RBI single and, after Harvey plunked Ed Lucas, Donovan Solano broke the game open with a two-run hit.
"I couldn't make the pitch to get him out," Harvey said of Solano. "When I went in, it wasn't in enough or down. And then I threw him a slider and it was up, so he shot it into right field."
It was the final pitch of the afternoon for Harvey, who struck out eight over 5 2/3 innings. Solano indicated that Harvey seemed tired by the sixth, and even manager Terry Collins' trained eye agreed. As soon as his ace's sinker started flattening out in the strike zone, Collins knew that Harvey was gassed.
That lack of execution, combined with Miami's propensity to foul off pitches and make contact, doomed Harvey in the end.
"For whatever reason, we really lock it in against him," Marlins manager Mike Redmond said. "We've just been able to kind of rise to the occasion and grind out a ton of at-bats and make him throw a lot of pitches."
It was enough for Harvey to lose to Stony Brook University alumnus Koehler, who pitched six scoreless innings despite walking five batters. The Mets had their share of chances, putting multiple runners on base in the first, third and fifth innings. But Koehler responded with a strikeout, a popout and a double play, respectively, keeping the Mets off the board.
"You've got to score runs to win games," said outfielder Marlon Byrd, who reached base twice but lined into a double play with two men aboard in the fifth. "We haven't gotten Harvey a lead in a while early. It seems like when we do, he shuts them down, but they kept hanging around."
Collins agreed, opining that Harvey "certainly deserves a better fate" considering all he has given the Mets this season.
Then again, that's just one perspective; the Marlins, no matter their perch in the standings, were not about to roll over to Harvey and the Mets, so who could have been surprised when they didn't? In winning the final two games this week, the last-place Fish remained undefeated in its four most recent series against the Mets.
"You always have a team every year, regardless of who it is, you always have one team that has your number -- it's as simple as that," Byrd said. "Did you think going into this season that we'd have the Phillies' number? Why? I have no clue. Did you think Houston was going to beat up on the Angels this year? Not at all. It's one of those things where you go out there and whatever you do, it seems like it doesn't work, and everything they do works."
Anthony DiComo is a reporter for MLB.com. Follow him on Twitter @AnthonyDicomo. This story was not subject to the approval of Major League Baseball or its clubs.