Montero to DL; Gosewisch makes big league debut
Montero to DL; Gosewisch makes big league debut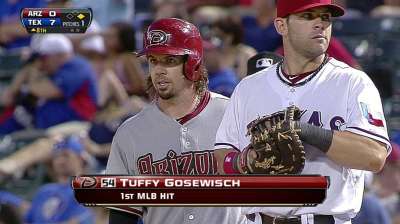 ARLINGTON -- The D-backs on Thursday placed catcher Miguel Montero on the 15-day disabled list, retroactive to July 29, as his sore back continues to ail him.
Montero did not play in the final two games of Arizona's series at San Diego, and he was out of the starting lineup for four consecutive games from July 23-26.
"It's a lower back strain, we're being proactive," manager Kirk Gibson said. "It's been nagging for about a week and we felt this was the best way to resolve it."
Montero will see a back specialist in Arizona on Friday morning and could receive an epidural injection, D-backs GM Kevin Towers said Thursday. Montero had an MRI last week that showed a bulging disk, Towers said.
"It just flared up on him again," Towers said. "I don't think it's anything serious."
Montero has struggled this season, hitting .228 with nine home runs and 34 RBIs in 92 games. However, he hit .303 (10-for-33) with three homers in the past 10 games.
In Montero's absence, 29-year-old Tuffy Gosewisch was in the lineup at catcher, making his Major League debut after hitting .285 with six homers in 66 games for Triple-A Reno this year.
Gosewisch, an 11th-round Draft pick for the Phillies in 2005, had caught Thursday starter Zeke Spruill regularly this season at Reno and said that would help him feel comfortable in his debut.
"That's my first priority, to try to handle the staff as well as I can and play defense as well as I can. Then I'll see what I can do on offense," Gosewisch said.
Gosewisch earned his first career hit with a single up the middle in his third at-bat. Gosewisch was 1-for-3 with a strikeout in the D-backs' 7-1 loss to the Rangers.
"It's really nice to get it out of the way the first game," Gosewisch said of his milestone hit. "That way I don't have to think about it, I'm not grinding on it the next three or four games."
Gosewisch got the news of his call to the bigs on Wednesday night after Reno's game in Oklahoma City.
"I was ecstatic," he said. "I didn't sleep a whole lot. Best feeling I've ever had."
Dave Sessions is a contributor to MLB.com. This story was not subject to the approval of Major League Baseball or its clubs.