Darvish dazzles D-backs with 14 K's in win
Darvish dazzles D-backs with 14 K's in win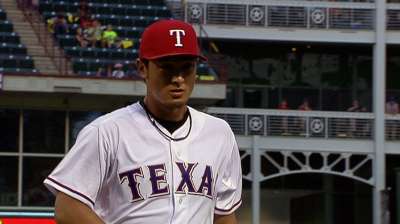 ARLINGTON -- The Rangers didn't get a chance for their fourth consecutive walk-off win. Blame Yu Darvish, who wouldn't stop striking out the D-backs on Thursday. He was electric in his 21st start of 2013, matching a career high with 14 strikeouts in a 7-1 Texas win at Rangers Ballpark in Arlington.
It's the fourth time Darvish has had a 14-strikeout game this season, passing Nolan Ryan for the most times accomplishing the feat in a season in club history. Darvish recorded double-digit punchouts for the 16th time in his career, and fell two short of tying the franchise record for most strikeouts in a game, twice done by Ryan. Darvish is the first pitcher with four 14-K games in a season since Randy Johnson in 2004.
"He was as good as I've seen all year, counting the almost perfect game he threw the first start of the year," catcher A.J. Pierzynski said. "His stuff was just nasty. He's throwing fastballs to the corners, he had a really good split tonight, and obviously he always has his slider. He just kept mixing it up and strikeouts kept coming and coming. Nights like that are fun."
Darvish allowed five hits in seven scoreless innings. With the 14 punchouts, Darvish has the second-most strikeouts through the first 50 career games, 407, among players to debut since 1900, behind Dwight Gooden.
Darvish struck out every hitter in the Arizona lineup except Cody Ross, who went 1-for-3 against the Rangers' ace. He struck out 10 of his first 13 batters and recorded his first six outs on strikeouts, all swinging, in the first two innings while allowing two hits. It marked the third time in his career Darvish struck out the side in consecutive innings.
"I didn't think I was going to get that many strikeouts," Darvish said through an interpreter. "My movement on my slider was really inconsistent. Some were dropping down, some were going sideways. I think that worked in my favor."
His fastball topped at 98 mph against Eric Chavez with two outs in the first. Chavez struck out two pitches later on a 95-mph heater that he tipped into Pierzynski's glove.
"I think the key was when I went on the DL, I tried to do things as far as my delivery and tried many new things to have the delivery that I have right now," Darvish said of his fastball command.
Darvish failed to record a strikeout only in the seventh, which was his final inning. It's also the only inning Darvish allowed two hits, both singles, putting two on with one out. On a night filled with K's, Darvish surprisingly ended his start on a flyout and popout to Jason Kubel and Didi Gregorius. He pounded the strike zone consistently, throwing 78 of his 111 pitches for strikes, and didn't walk a batter.
"He's got good movement on his ball; he's got a lot of different pitches," Adam Eaton said. "As a hitter you've got a lot of different thought processes in the box, and when you hit your spot and have that many pitches, it's tough as a hitter to put the ball in play and get good swings on balls."
The Rangers' left-handed hitters provided the offense with right-handed pitcher Zeke Spruill making his first Major League start. They went 6-for-10 off Spruill in four innings, with three home runs and five RBIs. Pierzynski, Mitch Moreland and David Murphy each hit solo home runs off Spruill.
"We created a lot of opportunities and gave ourselves a lot of chances there," Moreland said. "We were able to push a lot of runs across. With Darvish throwing the ball the way he did, playing like that as a team is definitely a boost and good to take into the road trip."
Leonys Martin hit a two-run double with two outs in the fourth. He slid past the third-base bag in his attempt at a triple and was tagged out to end the inning. Spruill allowed five runs on seven hits in the loss.
Elvis Andrus extended the longest active hitting streak in the Majors to 14 games with a two-out double in the seventh. It started a two-run inning for the Rangers, both unearned.
After Ian Kinsler's walk, reliever Tony Sipp committed a fielding error on a ground ball by Adrian Beltre that rolled down the first-base line. Sipp swiped at the ball in attempt to make the play, but it rolled out of his reach. Beltre was safe at first, paving way for Pierzynski's two-run single.
"It's beginning to be infectious throughout the lineup, and when we can do that throughout the lineup, that's when we're at our best," Rangers manager Ron Washington said. "That's what we've been doing these past four days."
Thursday's game was a makeup of a May 29 contest that was postponed due to field conditions. The Rangers went 4-0 on the homestand, sweeping the Angels and defeating the D-backs. They're now 3 1/2 games behind the A's, who were off Thursday, for first place in the American League West. They'll travel to Oakland for a three-game series starting on Friday as part of a 10-game road trip against three division teams.
"It's nice to be on a win streak and feel good about yourself, but we have to go up in there and continue to play good ball," Washington said on the Oakland series. "They have good pitching, and we have good pitching. We have to continue to do the little things. If we do that, we'll be fine."
Master Tesfatsion is an associate reporter for MLB.com. This story was not subject to the approval of Major League Baseball or its clubs.