Butler to be pinch-hitter in NL park
Butler to be pinch-hitter in NL park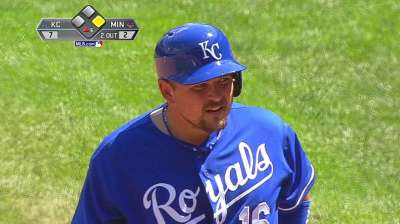 MINNEAPOLIS -- It looks like a weekend of pinch-hitting duties for Billy Butler, as the Royals move to New York for an Interleague Series against the Mets on Friday.
Manager Ned Yost said he plans to play Eric Hosmer, a left-handed hitter, at first base, because the Mets are planning to start three right-handed pitchers -- Dillon Gee, Carlos Torres and Jeremy Hefner.
First base is the alternate position for Butler, a right-handed batter, and is the designated hitter in American League parks.
Butler went 2-for-5 with a two-run single in Thursday's 7-2 win over the Twins.
This will be the Royals' first trip to Citi Field. They played the Mets at the Shea Stadium in 2002, and lost two of the three games.
Dick Kaegel is a reporter for MLB.com. This story was not subject to the approval of Major League Baseball or its clubs.