Cain, Shields help extend Royals' streak to nine
Cain, Shields help extend Royals' streak to nine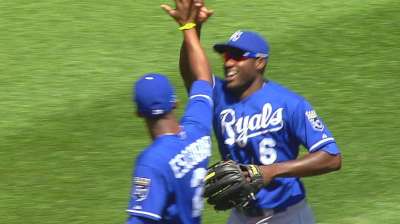 MINNEAPOLIS -- If winning is contagious, the Royals have got a good case of it.
They reeled off their ninth straight victory by knocking off the Minnesota Twins, 7-2, on a delightful 78-degree Thursday afternoon that drew 35,448 fans to Target Field. It's Kansas City's longest streak since the first nine games of 2003.
The Royals have won 11 of 13 games since the All-Star break and stand three games over .500 at 54-51.
Looking ahead? The longest winning streak in franchise history is 16 games in 1977. There have been three other streaks longer -- 14 games in 1994, and 10 in both 1978 and 1977. Nine-game streaks, in addition to 2003, also were achieved in 2002 and 1989.
The game-changer on Thursday? Winning pitcher James Shields looked no further than center fielder Lorenzo Cain's spectacular catch in the fifth inning.
"Lorenzo obviously made a game-saving play right there, robbing the home run," Shields said.
The Royals had a 5-2 lead and the Twins had Joe Mauer on base with two outs when Trevor Plouffe launched a drive toward the center-field bullpen.
"When Plouffe hit the ball I wasn't sure if it was warning track or was going to carry out of the ballpark," Royals manager Ned Yost said. "I kept watching Cain go back, back, back..."
Cain got a good jump on the ball, strode through the warning track, peeked at the fence and leaped.
"I got it [the glove] over there pretty good. The fence is higher than what it looks out there, so I got up as high as I could, stuck my glove over and made a play," Cain said.
No two-run homer for the Twins, just the third out. The Royals' relievers in the bullpen went wild. Back in the infield, a jubilant Shields raised his fists in celebration. He knew what would have happened if Plouffe's ball had gone over.
"It's a one-run game. I'm probably going to throw five innings instead of six if he doesn't catch that ball. But he's been doing that all season long," Shields said.
Cain was back in the lineup after missing three games with groin tightness. Feels pretty good now, he said, after also hitting a single, getting three walks and scoring two runs. The catch, of course, was the big moment.
"It was robbing a home run, it was kind of exciting. It got the team excited, and in that same inning we got the bats going, so I'd say it was a big momentum boost," he said.
Sure enough, the Royals got the important insurance margin in the sixth, when Billy Butler's two-run single increased the lead to five.
"Billy's hit was huge," Yost said. "Anytime you can tack on in games like that, it's huge."
Shields got through six innings and gave up just the two runs in the third -- the result of Brian Dozier's double and Joe Mauer's RBI groundout, and Justin Morneau's homer -- but he obviously labored. He threw 116 pitches and walked five along with the Twins' five hits. Luke Hochevar and Louis Coleman finished the job, combining for three scoreless innings. Coleman struck out the side in order in the ninth.
"To be honest with you, I didn't have much today," Shields said. "Sometimes you've got to go out there and battle and make pitches when you need to. But when you get the defense behind you like we did today -- I keep saying it over and over, but our defense is phenomenal."
In addition to Cain's catch, second baseman Miguel Tejada made two diving plays that he turned into outs.
The newest Royal, outfielder Justin Maxwell, wasted no time getting into the swing of things, delivering an RBI single in the two-run second inning against left-hander Scott Diamond. He later walked and scored.
As result, Maxwell was indoctrinated into the Royals' always-loud, always-raucous victory celebration.
"Billy Butler, on the way in, told me it was going to get crazy -- it gets kind of weird," Maxwell said. "I didn't know what he meant, but I found out in a hurry. I got 'player of the game,' so I got mobbed. It was great."
There was only a glum atmosphere in the Twins' clubhouse, where Diamond and outfielder Aaron Hicks were told after the game they were being optioned to Triple-A Rochester.
"It was an ugly series. Those guys came in here and wanted it more than us. They found ways to win games and we didn't," Twins manager Ron Gardenhire said. "We struck out too many times and missed too many opportunities. That was basically the whole series. So it was a disappointing series. I didn't like the way we started out that game. It was ugly."
This is the first time the Royals have won the first six games of a road trip since June 5-11, 1980, when they took four in Texas and two in Cleveland. That was the year of the Royals' first World Series.
One slight glitch surrounding all these victories is that the Royals haven't been able to gain much ground in the American League Central.
"Unfortunately we're not gaining too many games, but we're playing some really good baseball and we believe in ourselves right now," Shields said. "Going into these last two months, this is the kind of baseball we need to play."
The Royals are 6 1/2 games behind idle Detroit, which has won five in a row, and kept pace with second-place Cleveland, which won its eighth straight on Thursday.
It's an epidemic of winning.
Dick Kaegel is a reporter for MLB.com. This story was not subject to the approval of Major League Baseball or its clubs.