Diamond scuffed up in loss to Royals
Diamond scuffed up in loss to Royals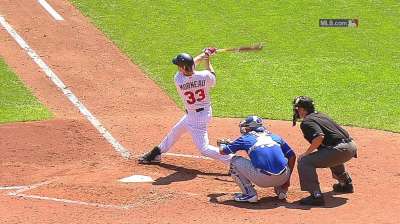 MINNEAPOLIS -- Throughout the season, Scott Diamond has kept saying he's close to figuring it out.
Diamond was solid last season as a rookie, with a 3.54 ERA in 27 starts, but simply hasn't been able to replicate his success this year, and now he'll have to fix his problems in Triple-A.
Diamond has struggled to find consistency, and it was the case again Thursday afternoon, as he couldn't build off his last start. And the Twins' offense failed to produce with runners in scoring position yet again in a 7-2 loss to the Royals at Target Field.
It led to Diamond being optioned to Rochester after the game along with rookie center fielder Aaron Hicks. Outfielder Oswaldo Arcia was recalled from Rochester, and the Twins will wait to name Diamond's replacement (it's expected to be left-hander Andrew Albers).
"I just haven't been pitching well," Diamond said. "If you're not impacting the team or contributing at all, then you don't deserve to be here. So right now I need to go down to Triple-A and figure some things out and hopefully come back."
Diamond, who gave up just one run in 6 2/3 innings in his previous start, couldn't carry that over against the red-hot Royals, who have won nine in a row after a three-game sweep over the Twins.
The left-hander labored through five-plus innings, surrendering seven runs (six earned) on nine hits and three walks with one strikeout, and his ERA rose to 5.52.
But he was hardly alone in being at fault for the loss, as the Twins made several misplays in the field and went 0-for-6 with runners in scoring position.
"It was not a good baseball game," Twins manager Ron Gardenhire said. "It was ugly early. It didn't look like the boys were ready and missed some plays. That's the most frustrating part of the game. I think we've stayed after the games pretty hard, but to watch how we played with balls of the wall and no one picking it up, watching plays and overthrowing cutoff men. It's unacceptable."
As Gardenhire pointed out, Diamond wasn't helped by his defense in the second inning, as third baseman Trevor Plouffe couldn't handle a potential double-play groundball hit by Miguel Tejada with two on and nobody out. It loaded the bases, which allowed Mike Moustakas to bring home the game's first run on a sacrifice fly and Justin Maxwell to bring home another on a single in his first at-bat with the Royals since being traded from the Astros.
Kansas City scored again in the third on a sacrifice fly from Eric Hosmer to score Alex Gordon, who led off the frame with a triple that was misplayed by Chris Herrmann in right field.
The Twins got on the board with two runs in the third -- on an RBI groundout from Joe Mauer and a solo homer from Justin Morneau off right-hander James Shields. It was Morneau's ninth homer of the season.
But it was all the Twins would score against Shields, who was able to pitch his way out of jams, as he walked five and gave up five hits over six innings. He also got a big assist in the fifth, when center fielder Lorenzo Cain robbed Plouffe of a two-run homer with a leaping catch at the wall.
"To be honest with you, I didn't have much today," Shields said. "Sometimes you've got to go out there and battle and make pitches when you need to. But when you get the defense behind you like we did today -- I keep saying it over and over, but our defense is phenomenal. Lorenzo obviously made a game-saving play right there, robbing the home run."
The Royals kept tacking on runs, adding one in the fourth on an RBI groundout from Alcides Escobar after loading the bases, before scoring again on another RBI groundout in the fifth from Tejada with the bases loaded to make it 5-2.
Kansas City broke it open in the sixth, as Diamond walked Maxwell and gave up a single to Escobar before being pulled for reliever Anthony Swarzak. Swarzak wasn't able to limit the damage, as he allowed two runs to score on a two-out single from Billy Butler.
It was another frustrating loss for the Twins, who failed to get a hit with runners in scoring position after hitting just .191 in those situations in July. It also marked the first three-game sweep for the Royals in Minnesota since 1998.
"It was an ugly series," Gardenhire said. "Those guys came in here and wanted it more than us. They found ways to win games and we didn't. We struck out too many times and missed too many opportunities. That was basically the whole series. So it was a disappointing series."
Rhett Bollinger is a reporter for MLB.com. Read his blog, Bollinger Beat, and follow him on Twitter @RhettBollinger. This story was not subject to the approval of Major League Baseball or its clubs.