Sale unable to cool off scorching Indians
Sale unable to cool off scorching Indians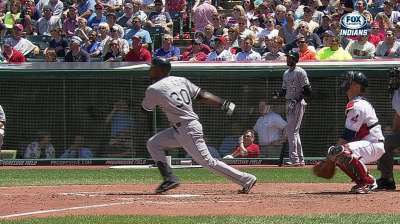 CLEVELAND -- There's little doubt that Chris Sale represents one of the best starting pitchers in the American League, if not all of baseball.
The one 2013 exception to that lofty ranking for the White Sox left-hander has been when he faces the Indians.
After allowing five earned runs on 10 hits over five innings Thursday afternoon at Progressive Field, Sale lost for the third time in three starts against Cleveland during a 6-1 setback. Sale has yielded 16 earned runs on 25 hits over 17 1/3 innings against the Indians (60-48), giving the hurler a 2.92 ERA overall, but an 8.31 ERA against the Tribe.
"I'm not going to sit here and make excuses. I got my [rear end] kicked," said Sale, who allowed three hits in the second, three hits in the third and four in the fifth. "I wouldn't say that was my best stuff I featured, but you've still got to go out there and find a way and unfortunately I couldn't."
"We've done a really good job against him," said Cleveland manager Terry Francona of his club's current Sale mastery. "We match up pretty well because we can send up pretty good right-handed hitters, because he's so tough on lefties."
Ryan Raburn was one of those righties to inflict damage upon Sale, knocking out two home runs among his three hits, with one homer coming against reliever Dylan Axelrod. That total included a wind-blown, two-run shot down the right-field line to give the Indians a 3-0 lead in the third.
"That was probably one of those Spring Training ones. It's the perfect way to hit it, spin it, or whatever," said White Sox manager Robin Ventura of Raburn's first homer. "It was a nice fade off a golf shot, and it carried with the wind. But we're playing on the same field."
Beating up on the White Sox is nothing new for Raburn, who drove in four runs as part of Cleveland's eighth straight win. He has three homers and 11 RBIs this season against the White Sox and 16 homers and 61 RBIs lifetime against Chicago. His next highest RBI total against an individual team is 23, against the Royals.
Sale has been one of the few positives in an otherwise dismal season for the White Sox (40-66), who have lost seven straight, 10 of 11, 13 of 16 and have been swept in two straight division series. But Sale's record doesn't reflect his All-Star capabilities.
In slipping to 6-11, Sale stands at 1-9 over his last 11 starts despite having a 3.23 ERA over 78 innings during that stretch, with 94 strikeouts. Sale struck out six and didn't walk a hitter Thursday, departing after just 79 pitches.
"Chris probably wasn't as sharp as he may have looked early, but they were squaring it up pretty good," Ventura said. "It was just one of those they can swing it, and they got to him today."
Run support has plagued Sale throughout his last 11 trips to the mound, as the White Sox have scored just 17 runs. Their one run for Sale on Thursday came courtesy of Alejandro De Aza's blast leading off the sixth, his 13th.
As much as the White Sox ace has struggled against the Indians, Cleveland All-Star starter Justin Masterson (13-7) has been that successful against the South Siders. His winning effort Thursday, featuring seven strikeouts and three walks in 6 2/3 innings and 104 pitches, improved Masterson to 4-0 with 0.85 ERA vs. the White Sox.
Thursday simply was more of the same for the lone remaining White Sox All-Star and the team's lackluster offense.
"Well I think we're all struggling," White Sox second baseman Gordon Beckham said. "Obviously, Chris has some great numbers and we wish we would have given him some more wins and hopefully we will, but there are a lot of guys that we haven't scored runs for and it's pretty frustrating.
"I know that the pitching staff is frustrated and I can't blame them, but we have to get better. We have to keep working hard and get better for the rest of this year and next year."
Thursday's setback marked the South Siders' eighth straight loss to the Indians and dropped them to 2-11 overall against the Indians and 12-28 against the AL Central. It's also the first time Cleveland has swept the White Sox twice in a four-game series in the same season.
Finding negatives involving the White Sox is easier at this point than finding an encouraging fact. It was an especially tough week for Ventura's crew, who not only lost four games but also lost valued teammates such as Jesse Crain and Jake Peavy via trades.
Those are the consequences for an expected contender playing so poorly.
"Annoying, frustrating, whatever you want to call it," said Beckham of the forgettable season. "You wish those guys really well in the trade and wherever they go. You want them to do well and you hope that they help that team out. It is what it is, but it's not a lot of fun."
"These guys are like brothers to myself and everyone in here, and seeing some guys you've seen around here for a while and some leaders step out of here is tough," Sale said. "I'm not here to make excuses. We still have a job to do, still have got to go out and win games."
Scott Merkin is a reporter for MLB.com. Read his blog, Merk's Works, and follow him on Twitter @scottmerkin. This story was not subject to the approval of Major League Baseball or its clubs.