Rangers sweep with third straight walk-off homer
Rangers sweep with third straight walk-off homer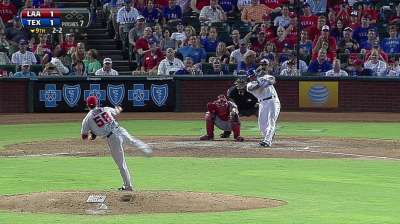 ARLINGTON -- The Rangers hopped over the dugout railing and mobbed one of their teammates at home plate on a game-winning home run for a third consecutive night. It's quite the way to respond to manager Ron Washington's 45-minute team meeting from Sunday.
The Rangers completed a three-game sweep of the Angels on Wednesday, all on walk-off home runs, on Adrian Beltre's solo shot in the ninth of a 2-1 win at Rangers Ballpark in Arlington.
"It kind of [stinks] for the other team because they don't want to get tied in the ninth against us right now," Elvis Andrus said. "That's a good sign."
Beltre sealed the sweep on a 2-2 pitch from right-hander Michael Kohn that sailed into the left-field seats. It's the first time in club history Texas has accomplished the feat. Geovany Soto and Leonys Martin recorded the other two walk-off home runs in the series. The Rangers had just one walk-off win all season before this homestand. The club also responded well to Washington's first team meeting this year, going 10-3 after that June 16 meeting.
"We just opened for everyone to talk, and we agreed to what was said and tried to put everything behind, especially what was going on the last two weeks before this homestand," Beltre said. "We came home with a different mindset and more positive. So far, it's been good."
The Rangers are now just four games behind the A's in the American League West with the win. They've picked up two games in as many nights after failing to gain ground for 32 consecutive days.
"It's coming to us right now," Soto said. "I know it's late innings and walk-offs, but we'll take any win we can, any way we can."
Martin Perez and Jerome Williams nearly mirrored their starts in producing a pitcher's duel. Perez worked a career-high 7 1/3 innings, allowing just the run on Josh Hamilton's homer in the seventh to tie the game. The lefty's first-pitch fastball caught the inside part of the plate, which Hamilton sent 422 feet to right-center field. Perez allowed just four hits, while throwing 65 of his 95 pitches for strikes.
"Before pitches, I was just slowing down and taking deep breaths," Perez said. "I just said to myself, 'You have to throw strikes and don't give too much credit to the hitters.'"
It was the sixth outing this season by a Texas starter of 7 1/3 or more innings while allowing no more than one run. Perez allowed just two runners to reach scoring position, as the Angels were 0-for-4 in that situation and left seven on base. Perez has a 3.82 ERA in eight starts since he was recalled from Triple-A Round Rock on June 22.
"Each time he takes the ball, it's an experience for him," Washington said. "You don't become a success overnight. It's going to take some time. He's going to have his issues, but he has quality stuff, and he has the demeanor. That's what we're trying him to be -- tough. Tonight, he was tough."
Williams threw 7 2/3 innings, his second-longest outing this season, allowing the homer to Nelson Cruz in the second. It was Cruz's 25th home run this season and his 25th career home run against the Angels. He has more home runs and RBIs, 69, against the Angels than any other opponent in his career. He continues to produce amid the rumor of a possible suspension looming from Major League Baseball for a link to the Biogenesis clinic.
"He's been very good at leaving whatever issues on the outside," Washington said. "You got to commend him for that."
Williams allowed eight hits in his outing, including one to Andrus in the first that extended the longest active hit streak in the Majors to 13 games. Joe Nathan picked up his second consecutive win (3-1) by pitching a scoreless ninth with two strikeouts. It's the fourth time in his career he's received a win in consecutive relief appearances.
"Our pitching staff has been the key to the team that's keeping us where we are right now," Beltre said. "If we start doing what we're doing in the last three games and put our offense more together, it's no doubt that our club will be in a really good position."
Master Tesfatsion is an associate reporter for MLB.com. This story was not subject to the approval of Major League Baseball or its clubs.