Angels stung by late blast for third night in row
Angels stung by late blast for third night in row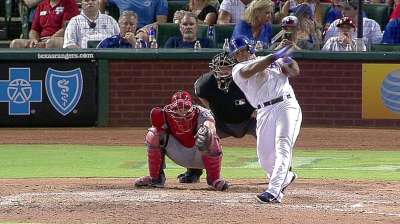 ARLINGTON -- It's as if you could feel it coming.
Ninth inning, game tied, Rangers Ballpark, a reeling Angels bullpen trying to keep things close and salvage what was already a gut-wrenching road trip. And then there it went. Hard line drive, Adrian Beltre, and the Angels were swept in a three-game series -- all via walk-off homers.
"It's tough," Josh Hamilton said after another crushing defeat on Wednesday night, this one by the score of 2-1. "We battled. Give the Rangers a lot of credit. Over the last few days, they just did what they do until the very end. But even though we came out on the wrong end of it, it was a good series for us. A few mistakes here and there, and overall, the fight in the guys, and the willingness to keep battling until the end, was something to take out of this, to go home with."
Jerome Williams pitched 7 2/3 innings of one-run ball to recover from a miserable five-start stretch. Hamilton hit a homer and finished the series 5-for-11, with a couple of walks and seven RBIs to raise his batting average to .226. And the Angels were outscored by only five runs despite losing three straight games.
That was it for the positives.
The Angels -- 10 games below .500, still 14 games out of first place -- lost on three straight walk-offs for the first time in club history. The last team to get swept in a three-game series on three walk-off homers was the Montreal Expos -- now the Washington Nationals -- from May 10-12, 1999, against the D-backs.
"When you make mistakes in the big leagues, guys will make you pay," said hard-throwing right-hander Michael Kohn, who served up Beltre's homer. "That's how the last three games have been going. That's what big league hitters do. You make one mistake and they are going to beat you."
Williams matched Martin Perez pitch for pitch through seven innings, with a couple of homers -- by Hamilton and Nelson Cruz -- accounting for the only scoring. The Angels had some chances late -- particularly when Mark Trumbo struck out with runners on the corners and two outs in the eighth -- but couldn't cash in.
And then, leading off the ninth, Beltre took a 2-2, 95-mph fastball from Kohn and laced one over the left-field fence to hand the Angels their season-high sixth consecutive loss.
Heading into this series, the Rangers (59-49) had lost four consecutive games and gone 21 straight innings without scoring a run.
"It's been really nice being able to walk off three times in a row," Beltre said. "Our offense is probably the reason why we struggled the last three weeks, and our offense has been better."
Leading 2-1 on Monday after getting seven innings of one-run ball from ace Jered Weaver, Angels closer Ernesto Frieri gave up two ninth-inning solo homers -- one to A.J. Pierzynski to lead off the inning and the walk-off shot to Geovany Soto with two outs.
Leading 11-10 in the ninth on Tuesday, Frieri gave up a two-out RBI single to Beltre, and in the 10th, recent callup Daniel Stange surrendered a three-run homer to Leonys Martin -- capping a game in which the Angels blew four leads.
And then came Wednesday.
Over the past six games, the Angels' bullpen has posted an 11.34 ERA, giving up 21 runs in 16 2/3 innings and picking up five losses.
"For a long time they held leads for us and were coming together," Angels manager Mike Scioscia said of a bullpen corps that has seen Scott Downs traded to the Braves, Sean Burnett get shut down for the year and Frieri struggle in the ninth. "Obviously this last week has been rough for some guys in the 'pen, but we're going to keep going. Things will get better as we move forward. Some guys who have been pitching a lot need to recharge a bit."
Williams had posted a 12.50 ERA in his previous five outings, giving up at least five runs and failing to make it to the sixth inning in each game. But he was a different pitcher on Wednesday, pounding the strike zone and jumping ahead of hitters and getting a boost from some key defensive plays early on.
In the bottom of the ninth, he was still in the visiting clubhouse, watching video from an outing in which he allowed only one run despite giving up eight hits, walking two and striking out one. Then he glanced over to the TV just in time to see Beltre's liner leave the yard.
The Angels' make-or-break seven-game road trip through Oakland and Texas ended 1-6, and it doesn't look like they'll have much to play for in the last two months.
"Obviously we're down," Williams said. "It's hard to swallow. But we have to come back, and tomorrow's a new day."
Alden Gonzalez is a reporter for MLB.com. Read his blog, Gonzo and "The Show", and follow him on Twitter @Alden_Gonzalez. This story was not subject to the approval of Major League Baseball or its clubs.