D-backs' offense awakens behind stellar Miley
D-backs' offense awakens behind stellar Miley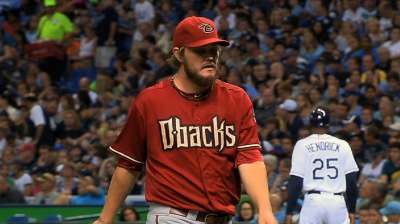 ST. PETERSBURG -- It was just a groundball single through the hole, but it sure felt like a whole lot more for the men wearing Sedona Red.
Cody Ross' two-out single in the first inning gave the D-backs' struggling offense a boost as they rode another strong performance by Wade Miley to a 7-0 win over the Rays on Wednesday night at Tropicana Field.
As the scoreless innings piled up on the offense -- it was at 21 before Eric Chavez hit a two-run homer in the ninth in Tuesday's series opener -- one could almost feel them pressing.
In Tuesday's game, they had runners on first and second with no outs in the first and did not score.
On Wednesday it looked like Rays starter Jeremy Hellickson was going to wiggle out of a first and second jam when he got Chavez to strike out and Aaron Hill to hit a chopper to short. Hill, though, beat the throw to first by a millisecond to load the bases and keep the inning alive.
Ross then hit his grounder through the hole to give Arizona a 2-0 lead.
"It totally did," Chavez said when asked if Ross' hit helped the offense relax. "Two-out hit by Cody just refreshing for us. We were struggling offensively, so it was nice to get off to a good start like that."
Speaking of good starts, Miley has put together a nice stretch of them since struggling through a miserable May.
Miley (8-8) posted a 4-1 record and a 1.59 ERA in five July starts.
"I think his last five or six outings have been really good," Chavez said. "So he's picking a good time to turn it on for us, and we're definitely going to need him."
The D-backs increased their lead to 4-0 in the third when Paul Goldschmidt walked and Chavez followed with a two-run homer down the line in right.
"We scored two in the first inning, two more in the third inning, and it was huge," Miley said. "You get some support, and you just want to go out and get the offense back in the box as soon as possible."
Goldschmidt added another home run for Arizona in the ninth.
Miley held the Rays hitless through the first three innings, and Tampa Bay managed just three baserunners through the first five innings.
"We couldn't shake Miley," Rays manager Joe Maddon said. "Their guy really pitched well. We had a couple of opportunities like we were talking about against him, and we needed to take advantage of those to get that momentum coming back to us."
Miley pitched his way into trouble in the sixth when he walked Evan Longoria and Wil Myers with one out before retiring Ben Zobrist and Sean Rodriguez.
In the seventh, Miley again got into trouble, as the Rays loaded the bases on two walks and an error. This time, though, the D-backs elected to let the bullpen try to get out of it.
"I was pretty upset at myself for going back out and not cleaning up the seventh," Miley said. "I wasn't really tired, but I got a little mad a couple of times and tried to overthrow a couple of times."
Heath Bell, though, came through for Miley.
Bell came on and fanned Desmond Jennings and Longoria to end the inning.
"Heath did a great job," Miley said. "Bases loaded, one out, he got two huge strikeouts to keep the game where it was at. One big hit and it's 5-3 or 5-4, and it's a new ballgame. He did an outstanding job of picking me up right there."
While Bell was well aware of the importance of the situation, he said he did not focus on the bases being loaded.
"I wasn't thinking, 'Oh it's bases loaded; I've got to go out there,'" Bell said. "It's just, I'm going out there and executing my pitches and trying to get Wade out of that jam."
Beating the Rays has to give the D-backs some confidence. Tampa Bay was finishing up a red-hot July in which it went 21-5, the third-best July record in the Majors since 1921.
"It's a good team for sure," Chavez said of the Rays. "They do everything very well, and we've caught them at a hot time, so it was nice to get this one for sure."
Steve Gilbert is a reporter for MLB.com. Read his blog, Inside the D-backs, and follow him on Twitter @SteveGilbertMLB. This story was not subject to the approval of Major League Baseball or its clubs.