Rays' offense sluggish behind Hellickson
Rays' offense sluggish behind Hellickson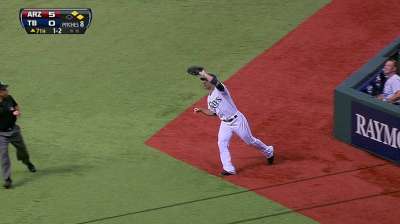 ST. PETERSBURG -- The month that roared went out with a whimper as the Rays lost a 7-0 decision to the D-backs on Wednesday night at Tropicana Field.
So rather than end the month with the second-best July record in Major League history since 1921 (the 1941 Yankees went 25-4 and 1945 Cubs went 26-6), the Rays had to settle for a 21-5 record.
Nevertheless, Rays manager Joe Maddon will take 16 games over .500 in any calendar month. And the month still ranks as the third-best July in Major League history and Tampa Bay's best in franchise history.
"I can't get too upset," Maddon said. "It's been a pretty good July. It's one of the funnest Julys I've ever participated in I think outside of the Scranton Red Sox or the Boulder Collegians. So I have no problem with the month, man. They outplayed us tonight."
The Rays seemed destined for the loss column from the beginning of Wednesday night's game. With two outs in the first, Aaron Hill chopped a ball to Yunel Escobar. The Rays shortstop fielded the ball and threw to first for what appeared to be the final out of the inning. Instead, first-base umpire Phil Cuzzi called him safe.
Cody Ross followed with a two-run single that put Arizona up, 2-0.
"It took a really awkward hop for a shortstop," Maddon said. "And he came in and tried to get it and backhanded it. The exchange got him a little bit. But nevertheless, I still thought he had a shot at him."
Getting the call at first "obviously would have been nice if he would have called him out," Hellickson said. "Still a 0-0 ballgame. After that I gotta pitch to the next batter and get out of that."
After Hellickson walked Paul Goldschmidt in the third, Eric Chavez padded the D-backs' lead with a home run that sneaked inside the right-field foul pole. Chavez hit the foul pole with a home run in the ninth inning of Tuesday's game.
"I was throwing fastballs away," Hellickson said. "Honestly that's probably one of the better pitches I threw all night. It was a changeup. He just got a good swing on it. I can't walk Goldschmidt before that. I just have to make better pitches to Chavez in that at-bat."
Hellickson lasted only 4 1/3 innings Wednesday night, the first time since June 22 that a Rays starter failed to complete five innings. He allowed four earned runs on seven hits and two walks to take his fourth loss of the season.
"The way Roberto [Hernandez] threw the ball last night, I wanted to come out and do the same thing," Hellickson said. "To go out there and look like I did was pretty disappointing. One of those games I have to put behind me and move on."
Meanwhile, the Rays found themselves on the losing end of a lights-out pitching performance, as Wade Miley allowed just two hits in 6 1/3 innings en route to his eighth win of the season.
"We scored two in the first inning, two more in the third; that's huge," Miley said. "You get some support, and you just want to go out and get the offense back in the box as soon as possible, so I was just trying to have quick innings and get them back in there."
When asked if his team had an emotional hangover Wednesday night, Maddon smiled.
"I think it was a Miley hangover," Maddon said. "He pitched really well. I've never seen him before; he was good. Spotted up his fastball. His slider, underneath to righties. The cutter. He was good. He was very good. You have to give credit."
Added Evan Longoria: "He was kind of effectively wild for me. He made a lot of good pitches when he needed to. He just really didn't give us an opportunity to settle in offensively. His ball had some good movement, and when he got into jams, he made pitches and got out of it. He was tough."
Wil Myers achieved the Rays' first hit when he extended his hitting streak to 12 games with an infield single in the fourth. Ben Zobrist followed with a double, but Ryan Roberts struck out after Sean Rodriguez's flyout to end the inning.
Myers and Longoria drew walks off Miley in the sixth but were stranded when Zobrist flied out and Rodriguez struck out to end the inning.
The D-backs added an insurance run in the seventh with three straight singles off of Rays relievers. After singling, A.J. Pollack stole second and third base before Gerardo Parra brought him in with an eighth-inning single. Goldschmidt then homered in the ninth.
"Day off tomorrow," Maddon said. "I think we need it right now. It's been a really significant grind that we've gone through. I'm really proud of the boys and how we've done all of this. The pitching's been great. The defense has been great. I just think maybe tonight, the way the game began, it took a little out of us, and we never really recovered."
Sam Strong is an associate reporter for MLB.com. This story was not subject to the approval of Major League Baseball or its clubs.