Sandoval departs with right heel bruise
Sandoval departs with right heel bruise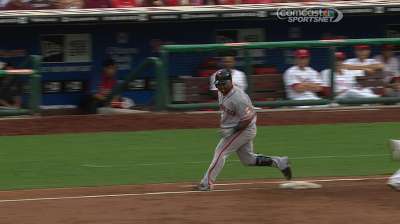 PHILADELPHIA -- Giants third baseman Pablo Sandoval bruised his right heel while legging out an infield single in Wednesday night's sixth inning against the Philadelphia Phillies.
Manager Bruce Bochy rated Sandoval's playing status as "day to day" after San Francisco's 9-2 victory, but added that the injury shouldn't sideline him.
"I think he's going to be fine to go [Thursday]," Bochy said.
Sandoval ran hard to first base after hitting a soft, broken-bat grounder to Philadelphia third baseman Cody Asche. Sandoval left the game immediately after pulling in at first base and was replaced by Joaquin Arias.
Sandoval, who turns 27 on Aug. 11, has endured several injuries this season, none worse than the strained left foot that forced him to miss 14 games from June 9-24.
Beset by injuries throughout much of his career, Sandoval has appeared in 88 of San Francisco's 106 games this season.
Chris Haft is a reporter for MLB.com. This story was not subject to the approval of Major League Baseball or its clubs.