Angels shut down Burnett for season
Angels shut down Burnett for season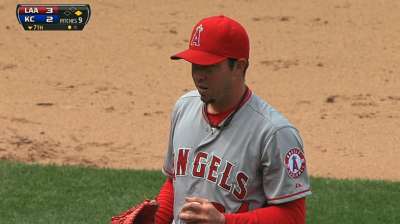 ARLINGTON -- Sean Burnett tried to ramp it up to game intensity in his latest bullpen session on Monday and his arm "still felt a little funny." An MRI on Tuesday revealed that the Angels' newly acquired left-handed reliever had a small tear in his left flexor tendon, and he will be shut down for the remainder of the season.
Burnett still hasn't definitively decided on how to treat it, but a surgical procedure -- one Burnett deemed minor, which he expects will have him ready for the start of Spring Training -- seems like the most likely next step.
"I got a little emotional after the bullpen the other day," Burnett said Wednesday. "I'm frustrated. It's been a few months right now. I come to a new team, trying to just fit in and help the team win, and I haven't been able to do much."
Burnett and Ryan Madson were the two big offseason bullpen additions; the ones who would play a big part in turning the Angels' biggest weakness of 2012 into a strength. And neither has been able to do much.
Burnett, in the first season of a two-year, $8 million contract that includes a team option for 2015, appeared in 13 games this season and last pitched on May 26. Madson, rehabbing in Arizona, has made no progress in his return from Tommy John surgery nearly 16 months ago.
"It continues to be slow," Angels general manager Jerry Dipoto said of Madson. "He's been on and off, throwing the ball aggressively and well at times, and at others, [he] needs extended breaks to get back where he needs to be. It's been a frustrating process for him, it's been a long one for everyone involved."
From 2008-12, Burnett averaged 67 appearances per season, compiling a 3.22 ERA without making a single appearance on the disabled list.
This year, following an offseason in which he removed two bone spurs from his left elbow, Burnett was on the DL from April 28 to May 21 with left forearm irritation, then landed on the DL again on May 28 with what the team called a left elbow impingement. By mid-June, he wasn't progressing, so he visited Dr. James Andrews, who performed his Tommy John surgery in '04, and was told to shut it down for a month and see how his arm responds.
Burnett did, then progressed to throwing bullpens recently but could never get to a point where he was pitching at full intensity. Since the tear is small, Burnett had no problem playing catch but would suffer flare-ups if he tried to simulate game action.
Two alternative options to surgery are either injections or rest and rehab, but as the 30-year-old Burnett said: "I've kind of already tried both of those.
"I'll probably sit down with Dr. Andrews next week. If he can tell me surgery is the best option, which it sounds like it might be, I'll go in and do that."
Alden Gonzalez is a reporter for MLB.com. Read his blog, Gonzo and "The Show", and follow him on Twitter @Alden_Gonzalez. This story was not subject to the approval of Major League Baseball or its clubs.