Cain's return delayed due to groin tightness
Cain's return delayed due to groin tightness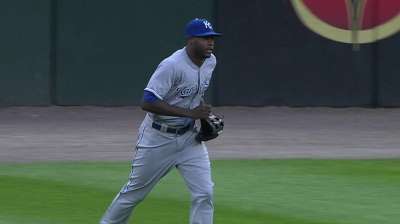 MINNEAPOLIS -- Royals center fielder Lorenzo Cain had a slight setback in his recovery from a tight left groin and didn't play against the Twins on Wednesday night.
Cain tested his groin successfully during pregame workouts on Tuesday night and was poised to play if needed in the late innings of the 7-2 win over the Twins.
"He felt OK yesterday during workouts and in the eighth inning, he started getting loose in case something developed and felt a little tightness in his groin so we shut him down," manager Ned Yost said. "Take no chances, see if we can have him available [Thursday afternoon for the series finale]."
Second baseman Chris Getz, who has a sore left knee, was also out of the picture on Wednesday night and Miguel Tejada again started. But Getz is close to being ready, Yost said.
"We'll probably wait until New York with a lefty going tomorrow," Yost said.
Dick Kaegel is a reporter for MLB.com. This story was not subject to the approval of Major League Baseball or its clubs.