Hot hitting paves way for Hech on basepaths
Hot hitting paves way for Hech on basepaths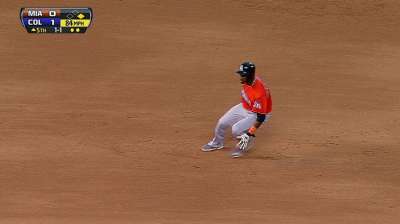 MIAMI -- After slumping for the season's first two months, Adeiny Hechavarria has been a different man at the plate in June and July. Hechavarria's batting average has jumped from .176 on June 3 to .240 entering Wednesday, spurred by a .324 (33-for-102) clip in July.
Offensive improvement has paved the way for Hechavarria to not only bat higher in the lineup, but to utilize his speed on the basepaths. He has stolen five bases in July after swiping only three in eight attempts in the first three months of the season.
Four of Hechavarria's steals have come in the past nine games.
"That was really the one aspect of his game that I knew that he had, but it just hasn't been able to come out yet," Marlins manager Mike Redmond said. "He was hitting lower in the order, and, really, he just wasn't on base."
Miami's activity on the basepaths has been moderate. The Marlins' 70 steal attempts is slightly lower than the National League average of 78.
Juan Pierre ranks 19th in the Majors with 19 steals in 25 attempts, and Justin Ruggiano ranks second on the team with 12 steals in 16 tries. But aside from those two, who haven't been playing much of late, only two other Marlins have attempted more than two steals.
Hechavarria's 15 attempts rank third, and he is perfect in five tries in July. His increased activity paid off in the Marlins' 4-2 win against the Rockies on July 23.
After reaching base with a two-out single in the third, he stole second and scored soon after on a Christian Yelich single to tie the game at 1.
"We're getting him out there, and we're trying to be aggressive," Redmond said. "Let him go and let him kind of run in counts when he feels like he wants to run. And that's how you learn in the big leagues to be aggressive."
Hechavarria's improved bat and Pierre's availability off the bench provide Miami with options. Add in the recently promoted Yelich and Jake Marisnick, and Redmond has several guys who can get into scoring position without an extra-base hit.
"Those guys, I want them to be aggressive," Redmond said. "There's going to be some times where they probably get thrown out where they shouldn't have.
"But I remember Tampa Bay, when they had [Carl] Crawford and all those young guys. Man, those guys ran wild. That's how they learned, and, eventually, you pick up counts that are really good to run and situations that really good to run in. And that's part of the learning process. So that will just continue to improve."
Joe Morgan is an associate reporter for MLB.com. This story was not subject to the approval of Major League Baseball or its clubs.