Nieves looking forward to reuniting with Peavy
Nieves looking forward to reuniting with Peavy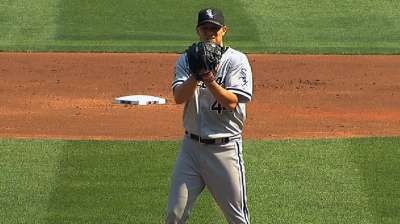 BOSTON -- One thing Jake Peavy won't need upon his arrival to the Red Sox is an introduction to his new pitching coach.
Juan Nieves, who is in his first year with the Red Sox, served as the bullpen coach for most of Peavy's time with the White Sox.
"He's probably the ultimate warrior," said Nieves. "He competes every pitch. He gives everything he has. He leaves it on the field. A good teammate. He'll fit in really well here. We're really looking forward to watching him compete again and be part of the grind here."
The more Nieves talked about Peavy, the more enthusiastic he seemed to get.
"I'll tell you one thing: his command is impeccable," Nieves said. "He doesn't walk anybody. He keeps the ball inside the ballpark. He can command four or five pitches. His delivery is very solid. His biggest strength is his demeanor, his competitiveness, and his willingness to win every game -- and stay as long as possible, to outlast the opponent.
"He wants to pitch longer than the other guy. If the other guy happens to be a short outing, he wants to be there the whole game. It's wonderful to see him compete."
One thing the Red Sox will soon come to appreciate is Peavy's knowledge of pitching.
"Very savvy," Nieves said. "Actually, he's in that group with El Duque [Orlando Hernandez] and guys like that that had a doctor's degree in pitching. These guys really know. They can read swings. They can read when hitters are actually swinging at first pitches. He knows when to attack a hitter, when to retreat, and, of course, there's a little bit of a different mindframe when you pitch at Fenway, but he fits right in with what we believe -- working fast, throwing strikes and attacking the strike zone."
Ian Browne is a reporter for MLB.com. Read his blog, Brownie Points, and follow him on Twitter @IanMBrowne. Jason Mastrodonato is a reporter for MLB.com. Follow him on Twitter @jmastrodonato. This story was not subject to the approval of Major League Baseball or its clubs.