Rios stays on South Side, focused on baseball
Rios stays on South Side, focused on baseball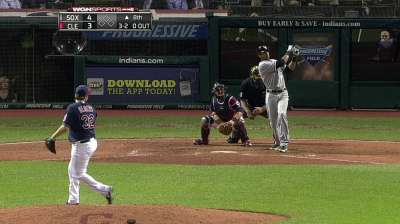 CLEVELAND -- The clock struck 4:01 p.m. ET in the visitors' clubhouse at Progressive Field on Wednesday, and right fielder Alex Rios was still with the White Sox. Despite fouling a ball off his left foot in Tuesday's loss, and sustaining a contusion, he was back in the lineup hitting third.
Rumored interest for Rios involved the Yankees and the Pirates. In the end, Rios stayed where he has been since 2009.
"Now, there's not going to be too much trade talks, and I think it's going to be just time to play ball," Rios said. "You have to wait until the end. The last couple of hours are the most active hours of the Deadline. So I just had to wait it out."
Rios' $12.5 million salary is part of the approximately $59 million the White Sox currently have committed to 2014 payroll, not factoring in arbitration-eligible players. The White Sox still could move him in an August waiver-wire deal, he could be traded in the offseason or he could be a part of the team's refocusing project moving forward.
As the veteran said, though, the worry now simply falls upon baseball.
"I don't know how deep they are going to go into whatever they want to do," Rios said. "But as of right now, I'm part of the team and I'm going to do everything possible to win games and to do well. That's how I feel."
Scott Merkin is a reporter for MLB.com. Read his blog, Merk's Works, and follow him on Twitter @scottmerkin. This story was not subject to the approval of Major League Baseball or its clubs.