Kuroda's gem tees up Yankees' rally in LA
Kuroda's gem tees up Yankees' rally in LA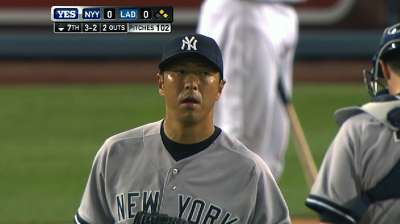 LOS ANGELES -- The Yankees react with mock horror when asked to contemplate where they'd be this season without Hiroki Kuroda. They might not have done very well on Wednesday night without Lyle Overbay, either.
Overbay delivered a pinch-hit RBI single with two outs in the ninth inning before two more runs scored on an error, helping the Yankees take advantage of another Kuroda gem with a 3-0 victory over the Dodgers at Dodger Stadium.
"We've got to take care of this business," Overbay said. "We're not in a panic mode or anything. If we take care of our business, we're going to be right where we need to be this fall."
Clayton Kershaw handcuffed the Yankees through eight innings with a dominant effort before New York stirred in the ninth, with Overbay entering for Brent Lillibridge and Paco Rodriguez relieving right-hander Ronald Belisario for a left-on-left matchup.
Overbay appeared overmatched by Rodriguez's first three pitches -- getting a safe call on a check-swing with two strikes in a ruling that would lead to Dodgers manager Don Mattingly's ejection -- but he connected with the fourth, plopping a hanging slider in front of center fielder Andre Ethier to send Robinson Cano racing home with the first run of the night.
"It's real big. It wins the game," Yankees manager Joe Girardi said. "That's the bottom line. We've talked about that we have to win close games and we need that timely hitting. We went through some struggles, but we got it tonight and that was the difference."
"Hopefully he makes a mistake, and he did," Overbay said of his thought process. "You're able to put that ball in play and put it where they're not."
The Yankees gave closer Mariano Rivera a three-run lead when Dodgers second baseman Mark Ellis and right fielder Yasiel Puig converged underneath what should have been an inning-ending Jayson Nix popout, but the ball popped out of Ellis' glove, allowing Ichiro Suzuki and Overbay to race home.
"It was a popup in a weird spot, and I dropped it. I don't know what else to say," Ellis said. "It was too late to get out of the way, and I tried to go up and catch it."
After being honored on the field by the Dodgers in a ceremony that included a video message from Jackie Robinson's widow, Rachel Robinson, Rivera polished off his 34th save by retiring the side in order in the ninth inning.
That made a winner of Boone Logan, who navigated a treacherous eighth inning, issuing an intentional walk to Puig before stranding two men aboard by getting Adrian Gonzalez to fly out to center field.
"I didn't really have much work in tonight, but I had a lot of luck," Logan said. "But I knew he was probably sitting on my slider. I've thrown him a lot of sliders, so I just attacked him with fastballs."
Though he didn't receive a decision in the victory, Kuroda completed a splendid July with seven scoreless innings of five-hit ball, going 3-0 with an 0.54 ERA (two earned runs in 33 innings) over five starts since July 7.
"He was brilliant again. You think of his starts that he's had since the break, he's been really good for us," Girardi said.
Kuroda had said that there might be some strange emotions stirring as he walked to Dodger Stadium's mound, a place where he toiled for four seasons before joining the Yankees, but he hid them well. Kuroda walked one and struck out eight in a 103-pitch effort.
"At first, it was a little bit strange, I have to admit," Kuroda said. "But I'm wearing a Yankees uniform now, so once the game started I was able to get into a rhythm."
Kershaw was exactly as advertised to the Yankees, allowing five hits and scarcely seeming to be challenged by their lineup. New York's best rally against Kershaw came in the second inning, as Lillibridge's well-executed hit-and-run put runners at the corners with one out.
Practically yawning at the threat, Kershaw got Nix to pop out and induced Chris Stewart to hit into an inning-ending fielder's choice. New York wouldn't have two runners aboard again until the eighth, when Kershaw used his last pitch to get Brett Gardner to fly out to left field.
But the Dodgers had few answers for Kuroda's nasty splitter, so the veteran was able to match Kershaw in a reunion that both pitchers had looked forward to -- in some respects, anyway.
"He has more respect for Hiroki than any teammate he's ever had," Dodgers catcher A.J. Ellis said. "They came into the league together in 2008 and they really bonded as teammates. They always played catch together."
"You know, I didn't really want to face him," Kuroda admitted. "But for four years I was a teammate with him. He's a great guy. As always, he's been pitching great. So it was a great outing for him."
Kuroda's final inning was also his most challenging, as he pitched around three singles -- getting help from Vernon Wells, who threw out Gonzalez stretching from right field -- to record a big strikeout of Skip Schumaker, keeping Los Angeles off the board and showing a flash of rare emotion.
"The situation dictated that emotion," Kuroda said, with a smile. "Once in a while, I can do that."
Bryan Hoch is a reporter for MLB.com. Follow him on Twitter @bryanhoch and read his MLBlog, Bombers Beat. This story was not subject to the approval of Major League Baseball or its clubs.