Twins can't position themselves in loss to KC
Twins can't position themselves in loss to KC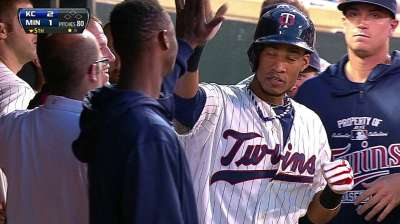 MINNEAPOLIS -- Trailing by a run with one out in the ninth, Joe Mauer stepped up to the plate on Wednesday night to the roaring approval of the Target Field crowd. The hometown hero didn't disappoint as he reached to represent the tying run.
Mauer hit a sharp grounder up the middle where Royals shortstop Alcides Escobar made a stellar stop in the dirt. But his errant throw allowed Mauer to reach safely, and move to second base. With only one out, the heart of the Twins' order was due up next.
But Royals closer Greg Holland ended the threat by striking out Justin Morneau and Ryan Doumit and Twins dropped a 4-3 decision to the Royals, who secured a series victory and won their eighth in a row.
Mauer being stranded was the theme of the evening as the Twins went 3-for-17 with runners in scoring position.
"We left a lot of people out there, a lot of strikeouts again," manager Ron Gardenhire said. "We need to put the ball in play a few more times in those situations. I know they made some pitches but boy, we looked like a couple times we really didn't even need to swing."
The lack of timely hits was a microcosm of the Twins' month. Despite a 4.20 ERA in July, the Twins went 9-17 while sporting a .191 average with runners in scoring position.
While Royals pitchers allowed 11 hits, they also recorded 12 strikeouts -- led by starter Jeremy Guthrie's five K's.
Beyond the Twins' inability to bring in runs, the Royals also benefited from a costly seventh-inning error.
With two outs and Alex Gordon on third after a triple, Eric Hosmer reached on a fielding error as shortstop Pedro Florimon couldn't glove the ball while in motion, allowing Gordon to score the go-ahead run. Billy Butler drove in Hosmer, after he stole second, with a single up the middle one batter later, making it 4-2.
The Twins cut into the Royals' lead in the eighth as Doumit and Plouffe hit back-to-back doubles off Kelvin Herrera to open the inning and make it 4-3. After Herrmann struck out, Hicks singled on a slow roller up the first-base line. Herrera fielded the ball, but had no play.
With runners on the corners, Aaron Crow came on for Herrera and fanned pinch-hitter Chris Colabello and Clete Thomas to end the threat.
Guthrie worked efficiently through five innings for the Royals -- giving up one run on Florimon's solo shot to right-center in the fifth -- before running into a jam in the sixth.
The Twins opened the sixth with three consecutive base hits, as Mauer, Morneau and Doumit loaded the bases with none out. Guthrie was given some cushion as Trevor Plouffe hit a dribbler to third and Mike Moustakas fired home to catcher Salvador Perez for the forceout. Herrmann walked in a run to make it 2-2 before Guthrie got Hicks on a popup and Florimon with a strikeout.
Guthrie finished the night after six innings with two runs on six hits and two walks for his 11th win.
"We made a lot of really, really important plays," Guthrie said. "I'd says this is one of the gutsier wins I've ever been a part of as far as we had adversity and had to battle. We had four or five guys that were heroes tonight to win a 4-3 game, so that tells you something about this team."
The Royals started quickly and grabbed an early lead in the second. David Lough, who doubled, scored on Miguel Tejada's single that soared just over Jamey Carroll's glove into right field. After giving up another hit to Moustakas, Twins starter Kevin Correia fielded Escobar's grounder and fired home to retire Tejada on a forceout -- holding the Royals to just one run.
An inning later, Kansas City threatened again as Gordon led off with a single and moved to third on Hosmer's double. With none out, Butler hit a sacrifice fly to right for a 2-0 lead. But as Hosmer tagged and attempted to move to third, right fielder Herrmann fired a laser to the bag for a double play. Correia fanned Salvador Perez to end the inning.
"That was one of the best throws I've seen all year from an outfielder," Royals manager Ned Yost said. "It was an absolutely perfect throw. As soon as Billy hit the ball, I said, 'OK, that's a run. Hoz is going to third and we'll pick up another run.' But the throw was absolutely perfect, as good a throw as you're going to see."
Correia gave up 10 hits, but allowed only two runs with three strikeouts in six innings, although the right-hander said it didn't feel like a quality start.
"I felt like I'd rather go out there and do that than what I've done a lot in the past where I've pitched well and then give up a two-run homer," Correia said. "I pitched a little better and was able to work out of jams. To be able to leave the game tied with a chance to win the game, I'll take that. I'm not trying to pad my numbers or more ERA at this point in my career. I'm here to win baseball games and I don't really care how it happens."
Kelly Erickson is an associate reporter for MLB.com. This story was not subject to the approval of Major League Baseball or its clubs.