Royals break right for eighth straight victory
Royals break right for eighth straight victory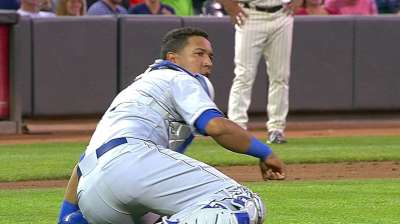 MINNEAPOLIS -- This was the kind of game that typifies a long winning streak. Lots of good breaks, lots of big plays, lots of heroes.
The Royals won their eighth in a row and boosted their record to 10-2 since the All-Star break by defeating the Minnesota Twins, 4-3, to disappoint the majority of the 32,789 fans on Wednesday night at Target Field.
The eight-game streak is Kansas City's longest since 2003, when that team opened the season with nine straight wins. That also was the last year the Royals were over .500 this late in the season; they're now 53-51.
"We made a lot of really, really important plays," winning pitcher Jeremy Guthrie said. "I'd say this is one of the gutsier wins I've ever been a part of as far as we had adversity and had to battle. We had four or five guys that were heroes tonight to win a 4-3 game, so that tells you something about this team."
Start with Guthrie. He got himself in a bases-loaded jam with no outs in the sixth inning and walked in one run, but stopped it there and maintained a 2-2 tie. His reward would be his 11th victory, matching his career best.
Then there was catcher Salvador Perez's quick-as-a-cat play to scoop up Aaron Hicks' picture-perfect bunt in the fifth inning and throw him out.
"As soon as he bunted that ball, I said, 'There's no way,' and then, ba-ba-boom, he got him," said Royals manager Ned Yost. "A phenomenal play. That saved game for us, too."
It did because the next batter, Pedro Florimon, banged a home run. A solo shot, thanks to Perez's play.
"He always makes great plays, but the spinning play on a bunt when he's not even expecting it," Guthrie said. "He showed it really late, Hicks did a nice job to not tip his hand, so to bounce out there and make that play was huge -- to lead off an inning especially."
How about the Royals' eventful seventh inning which erupted after two outs? Alex Gordon tripled off the wall against lefty reliever Caleb Thielbar and Eric Hosmer's grounder behind second base was booted by Florimon, the shortstop, for an error. The Twins switched pitchers, bringing in righty Casey Fien to face Billy Butler, and Hosmer swiped second base.
"I figured we're up one, might as well take a chance late in the game," Hosmer said. "Steal that bag and there's nobody better than Billy with a runner in scoring position."
Sure enough, Butler singled up the middle to get Hosmer home for a 4-2 lead.
"It doesn't happen if Hoz doesn't steal second," Butler said. "That's the way we're playing right now. We're doing the little things right."
Now came the Twins' eighth when reliever Kelvin Herrera was drilled for back-to-back doubles by Ryan Doumit and Trevor Plouffe for a 4-3 score. After an out and an infield hit, Aaron Crow took over the mound with two runners on and pinch-hitter Chris Colabello at the plate.
"I was just trying to get Colabello to hit into a double play and then I got into a position to go for a strikeout and was fortunate enough to get it," Crow said.
Yep, and he not only struck out Colabello but also Clete Thomas to preserve the lead for closer Greg Holland. And that produced another big moment in the Twins' ninth.
Joe Mauer got a one-out single up the middle and shortstop Alcides Escobar, fielding the ball, threw late and wild for an error that put Mauer on second with the potential tying run.
"It's one of those plays where you're better off eating it but that's what he does, he makes great plays," Yost said.
Not this time. But Holland glossed over that little mishap by striking out both Justin Morneau and Doumit for his 28th save and his 21st in a row.
About the only real downer came in the third inning when Butler's sacrifice fly scored the Royals' second run but, on the play, Hosmer was thrown out at third by right fielder Chris Herrmann.
"That was one of the best throws I've seen all year from an outfielder. It was an absolutely perfect throw," Yost said. "As soon as Billy hit the ball, I said, 'OK, that's a run. Hoz is going to third and we'll pick up another run.' But the throw as absolutely perfect, as good a throw as you're going to see."
Almost everything else worked out for the Royals and Twins manager Ron Gardenhire was suitably impressed.
"They're hot right now. Things are going their way. They're definitely into the games over there," Gardenhire said.
"Their pitching staff is good. Even though we put a lot of pressure on them, they've got some strikeout guys. They've got some really good arms. Their starter was tough. And they play the game. They get after it pretty hard. You can see that right now, they're very aggressive and they're taking their hacks at home plate."
A drawback to all this winning is that the two teams ahead of the Royals in the American League Central standings keep winning, too. Detroit won its fifth straight game and Cleveland its seventh in a row.
So it's vital that the Royals keep going, too, and perhaps that's why they're so intensely involved.
"Everybody in here doesn't want to be the guy that ends this streak," Butler said.
Dick Kaegel is a reporter for MLB.com. This story was not subject to the approval of Major League Baseball or its clubs.