Mariners tie it up late, but fall to Red Sox in 15
Mariners tie it up late, but fall to Red Sox in 15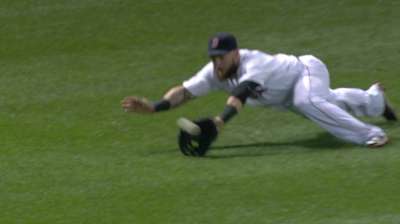 BOSTON -- Walk-off wins are becoming a way of life for the front-running Red Sox this season, but even for them, there was some extra craziness in Wednesday's 5-4 victory over the Mariners at Fenway Park.
Stephen Drew singled in the winning run off Mariners reliever Lucas Luetge with the bases loaded and two out in the bottom of the 15th inning for Boston's 10th walk-off of the season.
This one took five hours and three minutes, finishing up at 14 minutes after midnight on the East Coast. But it also took a most unusual double play in the top of the 15th when left fielder Jonny Gomes sprawled to catch a low line drive by Michael Saunders, then sprinted in to step on second base and double off Raul Ibanez, who had rounded third base thinking he was headed for the go-ahead run and had no chance to recover.
"I just checked the outfielders after every pitch and I saw where they were playing," said the 41-year-old Ibanez. "And based off the trajectory of Saunders' ball and the little fade I knew would be on it, I thought -- I didn't think, I was certain -- that it was going to bounce. Obviously it didn't. He made a great play."
Saunders said the uniqueness of Fenway made that play possible for Gomes.
"I think everyone was surprised," Saunders said. "I hit it low, hit it hard. But that's where the Green Monster comes into play. Teams that play here typically try to stay shallow because anything over their heads is a hit anyway. So they kind of played it like we would and he made a great play."
An unassisted double play by the left fielder apparently was the last blow the Mariners could withstand, as Seattle's bullpen -- after throwing eight straight scoreless frames with just one hit, two walks and 10 strikeouts -- finally succumbed in the bottom of that inning after the clock struck midnight.
Luetge loaded the bases with walks to Dustin Pedroia, Mike Napoli and Jonny Gomes before Drew delivered the winning blow on a line drive down the right-field line.
Relievers Yoervis Medina, Charlie Furbush, Danny Farquhar and Luetge allowed just one hit in eight innings before Luetge gave up a double to pinch-hitter Brandon Snyder in the 14th.
But even then, Saunders gunned down Snyder trying to score from third on a fly ball to center by Shane Victorino to extend the game another inning.
"We ended up on the losing side, but give it to our guys. They battled that entire game," said acting manager Robby Thompson.
Seattle threatened repeatedly in extra innings, but couldn't push across the go-ahead run. The Mariners had runners on first and second with two out in the 11th, but center fielder Ellsbury made a sliding catch of Dustin Ackley's line drive to end that threat.
They stranded runners at first and third in the 12th when Brendan Ryan popped out. Saunders ripped a two-out double in the 13th, driving the ball high off the Monster, but died there when Ackley flew out to center.
And then, most frustrating of all, Ibanez got doubled off on Saunders' line drive.
"Raul was a little overaggressive, but hey, that's OK," said Thompson. "That's how we play the game. We come out here and try to play hard and aggressively. They so happened to make a great play there."
The Mariners finished July with a 15-10 record, but are 0-2 to start a six-game East Coast road trip as they slipped to 50-57 overall with two months remaining.
Kyle Seager tied the game at 4 with a solo home run off reliever Junichi Tazawa leading off the eighth as the Mariners third baseman concluded a red-hot July with a 3-for-6 day that also included a double and two RBIs.
"They came out attacking first-pitch fastballs and got one up over the plate for Seager," said Red Sox skipper John Farrell. "Seager has been a nemesis for us. He's swung the bat extremely well against us."
Seager hit .396 in July (38-for-96) with five doubles, six home runs and 14 RBIs in 25 games as he raised his season average to .298. He has a nine-game hitting streak against the Red Sox during which he's hit .405.
Hisashi Iwakuma rolled out another solid start for the Mariners, allowing just a pair of unearned runs in 5 2/3 innings, but wound up with a no-decision after reliever Oliver Perez relinquished the lead on Pedroia's two-run blast in the seventh.
Iwakuma remains 10-4 with a 2.76 ERA. He allowed seven hits while walking two and striking out four despite pitching with a knot in his non-throwing shoulder that affected his delivery.
"I've been having a minor pain in my neck for the last couple days, after my last start," Iwakuma said through translator Antony Suzuki. "It's been bothering me, but nothing major. Though it did affect my pitches today because I couldn't command to both sides of the plate. But I was able to pitch inside to a lot of the hitters. [Humberto Quintero] did a great job behind the plate and that helped me a lot. It worked out well."
After escaping a bases-loaded jam in the first, Iwakuma breezed into the fifth before Boston scored a pair of unearned runs thanks to back-to-back errors by center fielder Ackley and second baseman Nick Franklin following a leadoff double by Brock Holt.
"We had that one little hiccup in the fifth inning, but other than that it was good baseball," said Thompson. "I told 'em, 'Way to battle and let's forget about that.' They're tough to win on the road like that. They battled to the end against a very good ballclub."
The Red Sox regained the lead in the American League East with the win, improving to 65-44, including a 5-1 mark against Seattle going into the final game of the series on Thursday.
Greg Johns is a reporter for MLB.com. Follow him on Twitter @GregJohnsMLB as well as his Mariners Musings blog. This story was not subject to the approval of Major League Baseball or its clubs.