After early miscues, Blue Jays top A's in 10th
After early miscues, Blue Jays top A's in 10th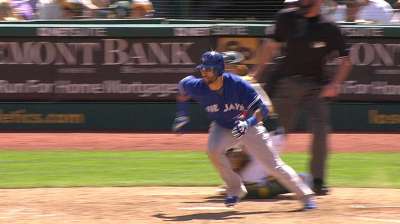 OAKLAND -- It wasn't pretty, but the Blue Jays escaped O.co Coliseum on Wednesday afternoon after taking two of three from the top team in the American League West.
Toronto played one of its sloppiest games in the field this season, but the overall damage was minimized thanks to a strong outing from R.A. Dickey and the bullpen. That gave the Blue Jays a fighting chance for some late-inning heroics, and the offense eventually held up its end of the bargain.
Jose Bautista hit a go-ahead RBI double and Colby Rasmus had a two-run single in the top of the 10th to overshadow a four-error afternoon as the Blue Jays secured their second consecutive series victory with a 5-2 win over the Athletics.
"I will say this is a brutal sun field when you're not used to it. We got lucky there," Blue Jays manager John Gibbons said of his club's defensive woes. "But I thought we played a good game other than that, good at-bats, our pitching was very good again and a lot of times that equals a win."
Dickey was forced to take a no-decision but he deserved a much better fate, as he was the victim of some sloppy defense which led to a pair of unearned runs. The veteran knuckleballer allowed just six hits and one walk while striking out three, but he found himself in trouble on multiple occasions as the Blue Jays had difficulty dealing with the bright sun.
A throwing error by Bautista in the third inning led to the game's first run, while Maicer Izturis couldn't come up with a high popup in the fifth which allowed another A's player to cross the plate. To make matters worse, Izturis botched a grounder in the fourth and Dickey ran into Brett Lawrie during the fifth for another error.
The four errors were just one off a season high set against the Dodgers on July 22. The issues in the field have been a season-long problem and have consistently led to unearned runs and elevated pitch counts for the starters.
"I think we were having some trouble with the sky, the sun was tough," Dickey said. "On my particular play I just tripped on the rosin bag and I heard Brett call for it late, otherwise I would have got out of the way, but I was falling down. For us to only give up two runs on a day when we made four errors is a real positive."
The turning point of Wednesday afternoon's game came in the fourth inning when the A's loaded the bases with nobody out on a pair of singles and an error by Izturis. Oakland was well positioned for a big inning, but instead Dickey managed to get out of the frame on a pair of popups to third base and a fly ball to center.
That momentarily preserved the Blue Jays' one-run lead, and while the game was eventually tied in the fifth, that situation could have put Toronto behind for good. It was a series of well-placed knuckleballs that kept the A's off the board and gave the Blue Jays a chance.
"We didn't score a whole lot, and they basically gave us a couple of runs," A's manager Bob Melvin said. "When you have someone like that in the division, you see them multiple times and it's a little easier to prepare for them. He had a good knuckler today and he changed speeds on it and we didn't get too many good swings on it."
Left-hander Aaron Loup, right-hander Steve Delabar and closer Casey Janssen came on in relief of Dickey and held the A's scoreless through the ninth inning. The impressive outings were then rewarded when the Blue Jays took control in the 10th.
Jose Reyes got the rally started with a leadoff single, and he later came around to score on a double down the right-field line by Bautista. A pair of insurance runs were then added on a two-run single by Rasmus.
All three runs were charged to former Blue Jays right-hander Jesse Chavez, who retired just one batter on two hits and a walk. That helped even the Blue Jays' record in extra-inning games to 6-6. It also allowed Toronto to win two series in a row for the first time since an 11-game winning streak during the middle of June, as the club finds itself seven games below .500.
Rasmus, who also scored on a passed ball in the fourth, has been a standout of late, as he has reached base in 21 of his his past 22 games.
"He's a tremendous athlete, talent, he has as much as anybody and he feels really good about his game right now and it shows," Gibbons said. "The sky's the limit, he's still a youngster, and if he keeps moving the way he's moving, there's no telling how good he can be."
Gregor Chisholm is a reporter for MLB.com. Read his blog, North of the Border, and follow him on Twitter @gregorMLB. This story was not subject to the approval of Major League Baseball or its clubs.