Quiet bats, sloppy defense sink A's vs. Jays
Quiet bats, sloppy defense sink A's vs. Jays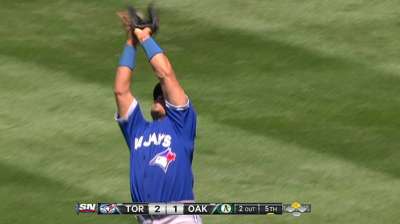 OAKLAND -- Defensive miscues by both sides in Wednesday afternoon's series finale between the A's and Blue Jays resulted in unearned runs that changed the course of the game.
Two passed balls allowed by A's catcher Stephen Vogt -- one in the fourth and one in the 10th -- proved detrimental in Oakland's 5-2 extra-innings loss, though the A's were also the beneficiaries of several key defensive lapses by the Blue Jays in the matinee at the Coliseum.
After Jose Reyes reached on a leadoff single in the 10th, he advanced to second on a passed ball by Vogt and scored the go-ahead run on an RBI double by Jose Bautista.
"The ball had some late movement and I didn't do my job," Vogt said. "I didn't catch the ball and I just lost focus there for a second I suppose."
Sure, maybe the A's (63-45) squeak by with the 2-1 win and don't drop their lead over the Rangers in the American League West to 4 1/2 games if Vogt handles Bartolo Colon's late-moving fastball to Maicer Izturis with two outs in the fourth instead of letting it go by so Colby Rasmus can score from third, but neither of the two runs scored during R.A. Dickey's six innings of work for Toronto were earned, either.
The Blue Jays committed four errors on the day and failed to corral multiple popups and fly balls because of the sun's glare during their get-away day game.
"It wasn't pretty out there, but I will say this is a brutal sun field when you're not used to it," Blue Jays manager John Gibbons said. "We got lucky there. But I thought we played a good game other than that, good at-bats, our pitching was very good again and a lot of times that equals a win."
"There were points in the game where they were almost trying to give us the game, and we weren't able to take advantage of it," A's third baseman Josh Donaldson said. "You just go out there the next time you step out there on the field and if there's guys in scoring position, we got to get them across."
Eric Sogard, batting in the No. 2 slot in the A's lineup for the second time in three games, scored twice on fielding errors. He singled with two outs in the third inning and scored on a single in the following at-bat by Jed Lowrie when right fielder Bautista launched the ball into the stands in an attempt to nab Sogard at third base.
Leading off the fifth inning, Sogard reached base again -- this time on a fielding error by Dickey, who stumbled backward off the mound after tripping over the rosin bag while following a popup that landed in the infield. Sogard scored once again with two outs when Blue Jays second baseman Izturis dropped a high popup off the bat of Brandon Moss in shallow right field.
The blunders came at a perfect time for Colon, who, while effective, was not as dominant as he's been for much of the season. He allowed three walks for the first time since June 11 in the no-decision, striking out one and allowing two runs (one earned) on seven hits.
The right-hander simply lacked control; just 53 of his 97 pitches on the day went for strikes -- a drop from his usual production.
"Sometimes you're behind in the count and you try to make the best pitches possible and you just can't," said Colon, who tossed six or more innings while allowing three runs or fewer for his 15th straight start, the longest streak by an A's pitcher since 1916. "That's what happened today."
Oakland could've seized the lead in the eighth inning after putting runners on first and second following consecutive singles by Donaldson and Seth Smith with one out, but Chris Young and Vogt both struck out swinging to end the threat.
The A's had an earlier scoring opportunity in the fourth when they loaded the bases with two straight singles by Moss and Donaldson and a throwing error by Izturis that allowed Smith to reach base with no outs. Dickey, however, escaped unscathed by forcing back-to-back popups to third base by Young and Vogt with his knuckleball before Coco Crisp flew out to center.
Ryan Cook, Sean Doolittle and Grant Balfour teamed up to keep the Blue Jays off the board before the 10th, with Balfour striking out the side in the ninth. Jesse Chavez entered the game to start the 10th and quickly gave up a leadoff single to Reyes before Vogt allowed the passed ball so he could move into scoring position. Bautista doubled in Reyes, and after an intentional walk, Jerry Blevins was then inserted. He walked the first batter he faced and then yielded a single through the hole at second base that allowed two more Blue Jays to cross the plate.
Newly acquired infielder Alberto Callaspo pinch-hit for Sogard in the seventh and flew out to right field in his first at-bat since his departure from the Angels. He finished 0-for-2 in his A's debut.
Jeff Kirshman is an associate reporter for MLB.com. This story was not subject to the approval of Major League Baseball or its clubs.