Jaso unlikely to return from DL this weekend
Jaso unlikely to return from DL this weekend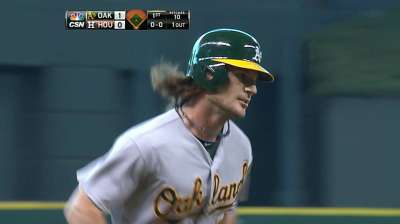 OAKLAND -- A's catcher John Jaso, who's on the seven-day concussion disabled list, said he was feeling better on Wednesday morning but remained doubtful he'll be able to return when eligible Thursday.
The A's have an off-day Thursday, but a return Friday or this weekend seems unlikely for Jaso since he hasn't resumed any baseball activity.
Jaso was scheduled to undergo a series of tests with the team's trainers on Wednesday and was looking forward to getting answers on what's next.
He's still experiencing some concussion symptoms, including buzzing in his ear each time he wakes up -- something he never experienced with his first two concussions, suffered in 2005 and '10.
"I'll talk to the trainers today and find out some stuff," Jaso said. "I want to play, but I know we have to be careful. If you put a catcher back out there, how often do you get hit in the face mask? The probability is high that the same thing could occur out there again."
In the meantime, the A's will rely on Stephen Vogt to share platoon duties with Derek Norris behind the plate. Entering Wednesday, Oakland was 8-0 in games started by Vogt at catcher.
Jane Lee is a reporter for MLB.com. This story was not subject to the approval of Major League Baseball or its clubs.