Padres' bats can't solve Bailey as sweep falls short
Padres' bats can't solve Bailey as sweep falls short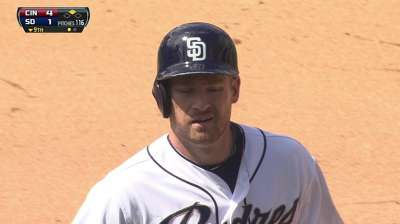 SAN DIEGO -- On a day when the Padres made a trade to help bolster their starting pitching, it's fitting that Wednesday's game against the Reds came down to the starters.
The Reds got a fantastic start from Homer Bailey, as he stifled the Padres' offense in a 4-1 victory in front of 26,450 at Petco Park. Padres counterpart Eric Stults could not match him.
Bailey had command of his split-finger to left-handers and breaking balls to right-handers, along with his fastball to help accumulate seven strikeouts in 8 1/3 innings. It was his first victory since he lost all four starts following a July 2 no-hitter against the Giants and he was near to that form in this game.
"Aggressive with his fastball," said Padres right fielder Will Venable. "He mixed it up on other guys, but aggressive with his fastball, had good life on it today. Locating it and made things tough on us."
Before first pitch, the Padres made a trade to help bolster their rotation for this season and beyond. They acquired starter Ian Kennedy from the D-backs hours before the non-waiver Trade Deadline.
"We've had our ups and downs there," manger Bud Black said of the starting pitching. "You look at the big picture, I think there's been some variability in our offense and starting pitching."
Stults was not the problem Wednesday, though. He bounced back after struggling in his last outing, in which he allowed 11 hits and seven runs against the D-backs.
Stults allowed only a solo home run in the second inning to Brandon Phillips, before faltering with his defense in the seventh. A two-out error by Chase Headley allowed the Reds to tack on three unearned runs, capped by Joey Votto's two-run double that extended their lead to 4-0 and chased Stults from the game.
"They didn't really hit him hard," Black said. "Well-placed hits, but they didn't really drive the ball on him."
Stults has been nearly unbeatable of late at Petco Park. Entering Wednesday, he had won eight consecutive decisions at home since April 27, tying a club record at this ballpark.
Stults allowed 10 hits and four runs (one earned) in 6 2/3 innings, throwing 109 pitches.
"They're definitely a team that is able to put up some big numbers," said Stults. "But we were able to control it and unfortunately weren't able to get the win today."
The loss prevents the Padres from completing their first three-game sweep of the Reds since Sept. 24-26, 2010, and snaps the team's four-game winning streak. San Diego did take two of three in the series and has won three consecutive series for the first time this season.
"We had that long stretch of lots of losing there before the All-Star break," Stults said. "So to come out in the second half and play the way we have, it's just definitely a step in the right direction."
The Padres' offense just had no answer for Bailey. He scattered six hits and pitched the first eight innings without allowing a run, leaving only when Headley doubled in an unearned run with one out in the ninth.
"We just couldn't seem to square the fastball well," Black said. "He had good movement. He's got that capability. He's got a good arm."
Reds closer Aroldis Chapman entered in the ninth to retire the final two batters and record his 25th save.
"The law of averages was on our side to win on the road and for Homer to win," said Reds manager Dusty Baker. "It's been a long time since he has won. There were some big hits we got today that had been eluding us the last few days."
Jamal Collier is an associate reporter for MLB.com. This story was not subject to the approval of Major League Baseball or its clubs.