Cards' bats come to life, but skid hits seven games
Cards' bats come to life, but skid hits seven games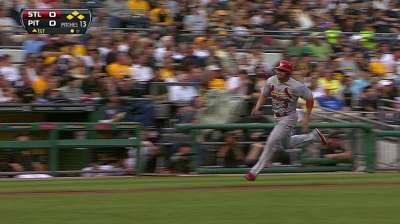 PITTSBURGH -- An offense unable to be jump-started over the first six games of this 11-game road trip awakened at PNC Park on Wednesday night, yet even with their ace on the mound, it would not be enough to pull the Cardinals out of their season-worst skid.
Russell Martin's two-out single off Trevor Rosenthal in the eighth lifted the Pirates to a 5-4 win in front of 31,679 at PNC Park. The win was Pittsburgh's fourth in this series and extended the Cardinals' losing streak to seven games, the longest in manager Mike Matheny's tenure.
A 2 1/2-game division lead became a 2 1/2-game deficit in six days.
"They're doing what it takes to win," David Freese said. "They're playing the ball that we wish we were right now."
With a pulse on the emotions in the clubhouse and his eyes on the effort, Matheny insists that he sees a team not undone by a lack of urgency or energy. That's why the Cardinals, who made no additions before Wednesday's non-waiver Trade Deadline, are not looking to be sparked by a drastic shakeup. A big hit, a better pitch will do just fine.
"These times come, and a lot of people want to see panic. They really do," Matheny said. "I think maybe people that follow us and root for us want to see panic. I don't know. I just know that's not what's best for our club. I know they want to see an urgency. I know they want to see a passion. And if they don't see that, they're not watching close, because it's there."
Rosenthal inherited a tie score from Adam Wainwright, who labored for seven innings and 108 pitches. Neil Walker's leadoff single put the go-ahead runner onboard, and Pedro Alvarez's deep fly-ball out was enough to advance Walker into scoring position. That would be key when Martin followed with a single to left.
"I wouldn't have expected this by any means," Pirates shortstop Clint Barmes said. "Coming in, we knew it was a big series, and we've played a tough series so far. Games coming down to one big moment."
The night opened with two All-Star starters taking the mound, though the respective offenses picked apart both.
Jeff Locke, who shut out the Cardinals in April, allowed a career-high 10 hits and pitched a season-short four innings. Matt Holliday gave him particular trouble.
A day after grounding into a rally-killing double play in extra innings and then having a ball bounce off his glove and over the wall, Holliday hit safely in three at-bats against Locke. His first single drove in the first of two first-inning runs. He singled and scored in the third, then provided a two-out RBI single in the fourth.
The latter hit put the Cardinals ahead, 4-2.
"They came out with a real good approach and stayed with it," Matheny said. "We scored a few runs. Usually, when you have Waino on the mound, that's going to be enough."
But this would not be Waino at his best.
The Pirates had an answer each time the Cardinals scored. Wainwright gave up one run in four of the seven innings he pitched. The tone was set during a 26-pitch first inning that included a leadoff walk and two-out RBI single by fellow All-Star Alvarez.
"That is so frustrating," Wainwright said. "To come in here and know that they're looking for me to be the stopper, and I'm looking for me to be the stopper … I'm just real frustrated that the offense did a great job going out there against an All-Star pitcher and scores four runs, gets 10 hits and gets him out of their early. I'm not going to say I let the team down today, but they deserved more out of me today."
Walker drove a hanging curveball over the right-field wall in the third inning to narrow the deficit to one. A two-out single by Barmes in the fourth again brought the Pirates to within a run. Pittsburgh tied the score in the fifth, benefiting from the extra out provided by first-base umpire Paul Schrieber. Though replays showed Freese's throw beating Starling Marte to first, Marte was awarded the infield single.
Marte swiped second, moved to third on a groundout and scored on the Pirates' third sacrifice fly of the series. The only clean inning Wainwright had was his last.
"Our offense has sharpened up since we've been home," Pirates manager Clint Hurdle said. "We've had better at-bats. We're not chasing as much. … We fought, scratched and stayed in the shadow until we tied it, then got one up on them late."
The Cardinals' offense had plenty of chances to bail out their ace right-hander but lacked enough key hits to capitalize. Four innings ended with the Cardinals leaving two runners on base. Pete Kozma's strikeout ended the seventh with runners on second and third. Eleven runners were stranded in total.
It's the 23rd time this season the team tallied 13 hits but just the third in which the outcome was not in its favor. If there was a bright spot, it's that an offense that collected only 16 hits and three runs in the first three games of this series finally emerged.
Still, the Cardinals on Thursday are staring at the possibility of being swept in a series of more than four games for the first time since 1916, when the New York Giants swept them in a six-game series at the Polo Grounds.
"We are not finding the ways to win the game right now," Wainwright said. "It's a rarity for a team like we have to go through a seven-game stretch like we've gone through. … One thing we're not going to do is lose hope. We're going to go out there and continue to grind and continue to win games. We're confident we have a team that can go out there and win games. Now it's time to see what we're made of."
Jenifer Langosch is a reporter for MLB.com. Read her blog, By Gosh, It's Langosch, and follow her on Twitter @LangoschMLB. This story was not subject to the approval of Major League Baseball or its clubs.